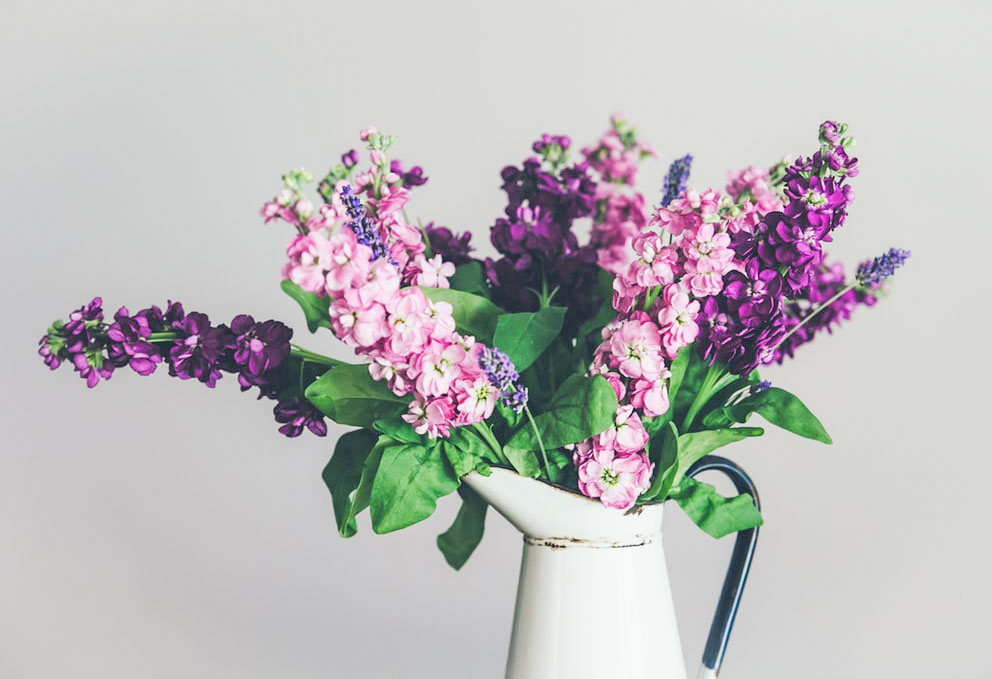 With the change in weather comes a craving for a change in scenery.
It's time to shake things up with these practical and surprisingly easy decorating ideas that utilize color in unexpected places. Highlight your natural surroundings and bring the outdoors inside.
Decorate with Florals
Elevate any room with flowers. The northwest is blooming with inspiration! Take a walk, visit a local farmer or pop in to the grocery store. They have vibrant, seasonal selections. Keep spring around longer by opting for a paper or silk version of your favorite blossom. When it comes to displaying your favorite flowers, don't settle for any common vase. Get creative with it! Anything can be used as planter:
Mason jars
Candle holders
Serving pitcher
Teacups
Wine bottles
Milk pails
Garden boots
Many Wesley communities feature scenic views of Puget Sound, lush gardens, panoramic landscapes of evergreen trees and gentle walking trails. Wesley at Tehaleh is no exception, surrounded by the Cascade and Olympic mountains, calming ponds and explorative parks. Take a stroll through the resident gardens, on the boardwalk over the wetlands or along one of the forested trails. Bring binoculars for bird watching and spotting one of the nearly 200 species of butterflies in the pollinator garden opening this summer.
Add Surprises of Color
Shake up your routine with practical and unexpected pops of color:
Fruit – Display lemons or oranges in a large glass hurricane vase or a nostalgic bowl collecting dust in the hutch. It's a practical way to bring color into the kitchen, and you can whip up a salad dressing, too!
Add a burst of fun with paint or wallpaper to an unexpected space: inside cupboards or on bookcase shelves, ceiling fan blades or mantels. Rejuvenate your laundry room.
Shake out the drab. Update your winter rugs and throw pillows. Display lighter textures, bright colors and fun fabrics with patterns against a neutral setting, and watch your room come alive.
Laura Leuschen from Senior Lifestyle Design is the lead interior designer on the Wesley Bradley Park and Wesley at Tehaleh projects.
"By keeping the apartment choices neutral, a resident can add their personal style and make it their own," said Laura. Even though Wesley at Tehaleh is under construction, residents have the opportunity to personalize their apartments.
"We wanted to reflect the same wood tones and natural materials found in The Lodge in the apartments. Residents can choose from a cooler, grey scheme that is reminiscent of a contemporary style, while those who appreciate a more craftsman approach can choose a warmer, beige scheme," said Laura.
Double Duty
Introducing greenery will not only bring the outdoors inside but will clean the indoor air as a natural filter. Keep larger plants, such as ferns, to the ground as statement pieces. Use smaller plants, such as succulents or orchids, on the desk or table. If you're "plant challenged," consider utilizing natural foliage found in the area as an accent piece. Varieties include salal, ivy or even local tree branches that only need to be placed in water.
Many of these variations can be found along the nearly 20 miles of forested walking trails surrounding Wesley at Tehaleh. With each season, the woods come alive. In the spring, the hills come alive with wildflowers. Watch for wildlife throughout summer. During fall, the trees catch fire with color only to be extinguished by the dusting of white snow in the winter.
No Detail is Too Small
Consider upgrading the finer details, such as your knobs. From doors to cabinets, think differently about your standard finishes. Flirt with the idea of antique glass, metal, copper or a decorative porcelain. Knobs can also be functional: hang keys, rain jackets, gardening bags, sun hats or even dog leashes from these little beauties.
Let There be Light
It's been said the windows are the eyes to the house. Why not give those eyes a lift by updating your window coverings? There are plenty of ways to add personality to your window:
Stencil a pattern
Hang a floral print from grommets
Add a geometric design to a cornice
Decorate canvas
DIY a drape with a drip-dry ombre effect
Spring is the time to pull back the shade and let in natural light. Adding an assortment of mirrors will create the illusion of a brighter space by capturing the sunshine and mirroring the outdoors to bring nature indoors.
Wesley at Tehaleh architects were inspired by nature, incorporating natural finishes of wood and stone into the modern architecture as well as large, bright windows into The Lodge apartments. The team captured the beauty of this new community by bringing the outdoors inside.
"I'm excited about this location and the view. We wanted the common areas of Wesley at Tehaleh to complement the Pacific Northwest's modern style of architecture and purposely chose a color palette reminiscent of the surrounding landscape. We believe the combination of natural materials and bright colors will create a vibrant retreat for residents," Laura said.
The deadline for customizations in Brownstone apartments has passed but there is still time to get your customizations in for apartments in the Lodge at Wesley at Tehaleh!
Learn more about our accommodations. Contact (253) 466-2720 or fill out the form below.
Oops! We could not locate your form.