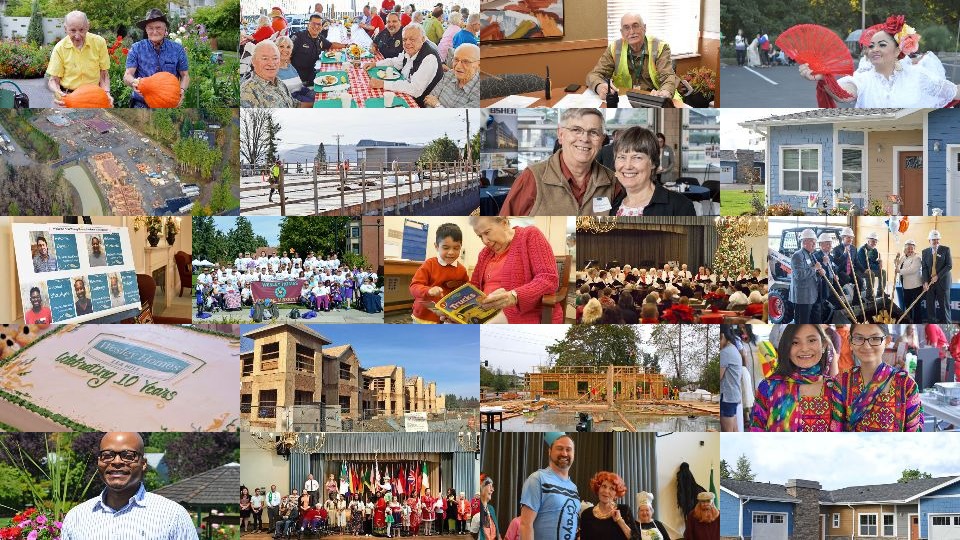 Over the past year, there have been many positive developments for Wesley—from improving our campuses to bringing new programs to the greater community. We've highlighted some of them to share with you.
The multi-phase, multi-year redevelopment of the Des Moines campus ramped up in 2017, completing Phase 1A with the construction of 21 new Cottages. Another 11 Cottages and the Brownstone with 24 apartments are now under construction. Toward the end of 2018, we expect to begin Phase 2 which includes the first wing of the new Gardens building.
Wesley Des Moines introduced many new programs for residents and the surrounding community. In July of 2017 Wesley Homes started the first college student resident program in the Pacific Northwest with Highline College. Wesley also collaborated with Highline Public Schools to introduce the Highline Montessori at Wesley Homes, an Intergenerational Program and preschool at the Des Moines Health Center.
Residents enjoyed the opportunity to join a variety of programs such as Wesley U, a continuing education program for older adults, and the Wesley Encores, a Des Moines resident chorus.
We've seen tremendous growth of our Bradley Park community, now with over 84 reservations. Last February we celebrated our Groundbreaking and today we're seeing exciting progress on the construction of the Brownstone and Lodge.
In May of 2017 Wesley Homes Lea Hill celebrated its 10 year anniversary with an open house. Lea Hill residents and staff also held a very successful disaster preparedness drill in October with the Community Emergency Response Team and Auburn Emergency Management team.
The Foundation launched a new web page dedicated to providing helpful information about planned giving.
Wesley Hospice received accreditation from the Accreditation Commission for Health Care and approval by Centers for Medicare & Medicaid Services which means it can now provide Medicare Certified hospice services.
"I'm extremely proud of our staff and residents," said Kevin Anderson. "They have worked hard and shared our enthusiasm for growing the Wesley mission throughout the region."
With so much accomplished in the past year, Wesley has even greater plans in 2018 including:
Launch a new Wesley brand and logo
Complete Phase 1 construction and start Phase 2 at Des Moines
Finish construction of Bradley Park and open the Brownstone mid-year
Start construction for a new community in Bonney Lake
Work with King County for a Fairwood/Renton community
Grow Home Health and Hospice
"Thanks to our hard working staff and generous support from our communities, I have great faith that we can accomplish our ambitious goals in the coming year," Kevin continued. "2018 is going to be a great year for us!"