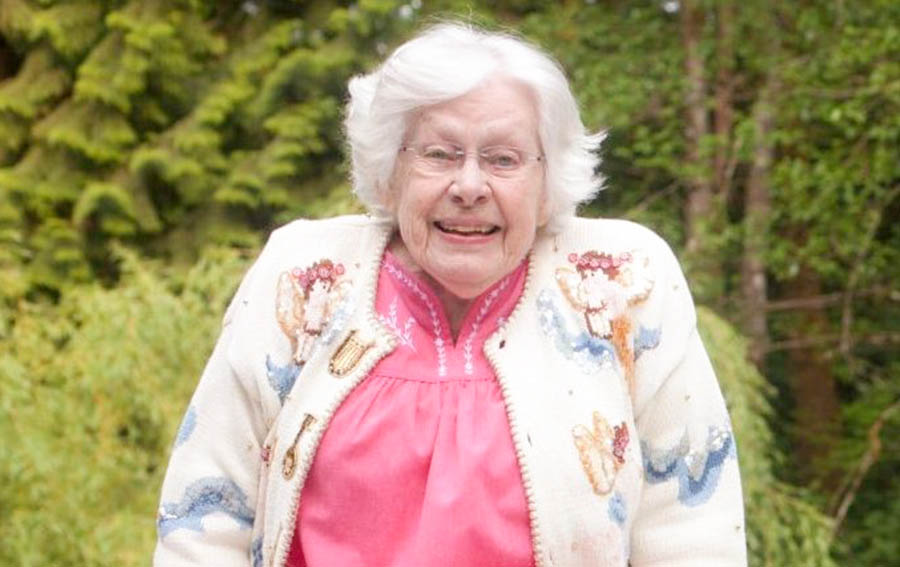 By Ellen Johanson
Compassionate care matters.  Family members know it.  Excellent caregivers provide it.  And residents feel it, even those unable to verbalize it.  
Ardith, a Lea Hill resident for over three years, knew Wesley was where she wanted to live because she had received excellent care at the Wesley Des Moines Health Center.  In 2017 Ardith moved into The Arbor, Lea Hill's memory care wing.  She recently passed away at the age of 94, having lived a vibrant, happy and full life.  Her daughter, Sharon, was grateful for the dependable, loving and safe care her mom received from the moment she moved to Lea Hill. 
Ardith grew up in Des Moines, Iowa and met her husband, Harold, on a blind date.  It was "love at first sight" for both of them and they were married for 70 years.  Ardith was a strong supporter of Harold's career as a structural engineer.  She was the quintessential homemaker and loved being a wife, mother, baker, volunteer and musician.  She was passionate about collecting angels, joining the Angel Collectors Club of America in the early 1980's. 
In 1993 the club held their national convention locally and their open house was held at Ardith's home in Federal Way.  Busloads of guests arrived to see Ardith's angel collection, which numbered 2,000!  There were angels of every type: from garden statuary to tiny figurines, angel pictures, stories and poems, clothing, jewelry, plates, music boxes and ornaments.  In 1997 Ardith and Harold tragically lost a daughter to cancer.  This influenced Ardith to increase the size of her collection with a special focus on harp-playing angels in memory of their daughter.  
In 2006 Ardith was diagnosed with Alzheimer's disease, and began a gradual decline that made it difficult to do the many church and community volunteer activities that had been the core of her outgoing personality.  She was well-versed in using computers, and decided to write a book titled "Remembering My Life."  Filled with stories and photos, the book remained by her bedside resulting in many Wesley caregivers talking with her about her life. 
"My mom coped with Alzheimer's in such a positive way, wanting to make the best of the last years of life," said Sharon.  "Being in a faith-based environment was of special importance to Mom.  She felt blessed to be safely wrapped in love and grace like a bubble of protection." 
Sharon believes this made the end-of-life journey with her mom easier.  "Wesley truly felt like home to my mom and she wouldn't have felt this way unless she had been treated like family.  I cannot say enough good things about the staff; they are phenomenal.  The nurses were so dedicated to my mom's peaceful passing," said Sharon. 
She describes the care as "fantastic and above & beyond other places.  Especially in this time of COVID-19, they orchestrated her care to make it as helpful to family as it was soothing and calming for Mom."  
Recognizing the compassionate care Ardith received at Wesley, Sharon and her husband, Jeff, made a generous gift to Wesley Community Foundation – specifically for Lea Hill's memory care wing – to continue safe, supportive and nurturing care for those with memory issues.  Out of her mother's great passion for collecting angels, Sharon and Jeff are also giving an angel to each of the caregivers who helped Ardith enjoy her later years.
Tree of Lights
Wesley provides an opportunity each year during Tree of Lights to honor or remember a loved one with an ornament on a campus Christmas tree.  This year staff members have gone above & beyond in caring for residents under the difficult circumstances caused by COVID-19.  This makes honoring front-line employees even more meaningful.  You may know of people who refer to these staff members as heroes or even angels among us.
In the spirit of remembering Ardith, and the many people we serve, Wesley Community Foundation would like to thank all who support Tree of Lights – you are angels among us. 
Your gifts make it possible to provide the care Wesley is known for and to safeguard everyone with personal protective equipment so much in demand this year.
There are several funds to which you may direct your Tree of Lights gift, so you can be certain your generosity is utilized where it matters most to you.  
As a not-for-profit organization, gifts to Wesley Community Foundation qualify for IRS charitable tax deductions.
Make an online donation today. You will be asked to list names of any loved ones you wish to recognize ($10.00 minimum per name please).  We will be honored to hang your personalized Tree of Lights angel ornament on a special Christmas tree at Wesley Des Moines, Wesley Lea Hill or Wesley Bradley Park, to be celebrated by all this holiday season.
We wish you hope and health, safety and strength, simplicity and grace in this Holiday Season as we acknowledge endings and new beginnings.