Review Us Online
Online reviews help Wesley provide the best experience for our residents and staff. We hope you've had a positive experience with us, and we'd like you to share your story!

1. Search Google for a Wesley location you'd like to review.
2. Click on Write a review under the business listing on the right-hand side. You may be asked to sign in with your Google Account. If you don't have a Google Account, don't worry, it's quick and easy to create one!
3. Select a star rating and write your review.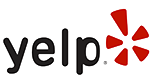 1. If you're a regular Yelp user we want to hear from you!
2. Log in to yelp.com and search Yelp for the Wesley campus you'd like to review (e.g. Wesley Lea Hill Rehabilitation & Care center).
3. Click Write a Review at the top of the page, select a star rating, write your story, then click Post Review at the bottom of the page.

1. Log in to Facebook and visit the Wesley Facebook page.
2. Hover over the •••More tab under the main image and click on Write a Review below the header or click here.
3. Select a star rating under where it reads Tell people what you think, write your review and then click Done.

1. If you're a Wesley employee you can anonymously review us online by visiting our Wesley Glassdoor page.
2. Click + Add a Review on the top right of the page.
3. Give your star rating and fill out any other information you like.