Residents of Wesley Lea Hill share autobiographical perspectives about life during the pandemic.
The residents of Wesley Lea Hill in Auburn put together a collection of perspectives from the early months of the pandemic. Here are a few excerpts, each with their own unique viewpoint:
---
The pandemic provided challenges for the Resident Council. Face-to-face meetings were no longer allowed. Zoom has the advantage of allowing residents to attend without leaving their homes. Unfortunately, not all residents have the technical capability to join via Zoom.
Gene Barker, page 11
---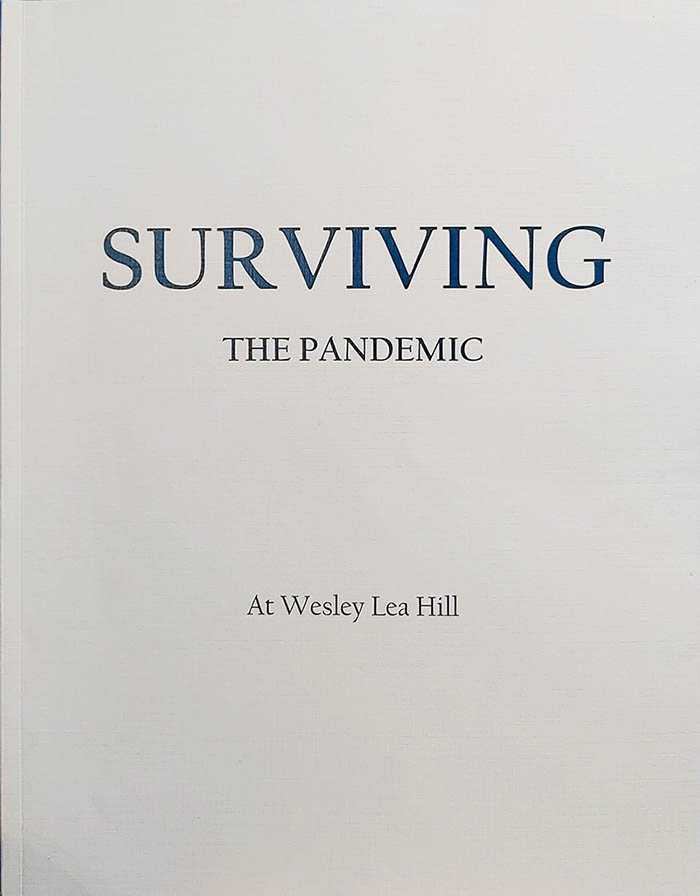 2020 entered on quiet feet. Life's traditions and plans were routine until March. We began to hear new words in the news [such as] the seldom used word–Pandemic. Immediately that gets my attention because it includes me in a global word affecting all nations and peoples.
Social Distancing was next in our learning and culture. Scientists and medical personnel determined that the virus could be expelled through the mouth or nose, but usually no more than five feet. So we were asked to keep a distance of six feet from a person next to us at all times. With that came the directive to wear face masks when we leave our apartments.
A newer word appeared in the Seattle Times–Doomscrolling. It is screen time when we sit hearing, seeing, and absorbing high anxiety doses of "bad news getting worse by the hour". Since positive news does not sell newspapers or grab your attention—guess what 90% of media covers? I have found I can handle one news session per day, and if that is too much, I turn it off and walk until my body feels the balance returning.
The paths, fresh air, trees and flowers… bring balance, harmony, sanity and a reminder to BE STILL… AND KNOW.
Helena Hanna, page 11
---
My family surprised me one day with a parade of cars, driving round and round the parking lot below my windows, decorated with signs and paper flowers with the great grandchildren hanging out the window. How nice of them to think of me. Luckily, I had a stack of masks I had made on the table, so I threw them out over the balcony railing until everyone had one to wear.
Jean Fisher, page 15
---
Now, like many "sewists" I have become a mask-maker. When we were put on lockdown and had to have meals delivered to our apartments, the waitstaff came wearing sad floral masks suitable for 90-year-old women. I dug into my stash of fun fabric and made our teen waitstaff some masks with the Avengers, Pokemon, guitars, pandas, hedgehogs, and watermelon. I stopped counting how many masks I had made at 200.
Pat Chubb, page 28
---
Webster tells us that a crucible is by definition a transformative experience, through which an individual comes to a new or altered sense of identity. Certainly, the Covid-19 pandemic qualifies as a crucible.
[The pandemic] taught another lesson about how vulnerable we are, and how little control we have, how much we are at the mercy of people we don't know, involved in activities in which we do not take part. It was a startling lesson in reality.
I am a woman of faith, which I have received as a gift. I did nothing to earn it. I believe I am meant to give it away to others in deliberate and random acts of kindness. Such actions carry me outside and beyond my own frustration, sadness, and grief. I am eternally grateful.
Barbara Brassfield, page 77
---
A friend sent this to me and I thought it might fit into the collection of COVID experiences:
We're still battling COVID-19, and the next thing is here already… The "Nile Virus, type C". It appears to target those who were born between 1930 and 1970. Symptoms include sending the same message twice, sending a message to the wrong person, forgetting to attach the attachment, etc. It is called the "C-Nile Virus"!
And if you can't admit to doing the above, you've obviously caught the mutated strain: the "D-Nile Virus"!
Art Bracher, page 30
---
The care and proactive precautions taken by the staff, under the leadership of Greg Byrge, has been comforting. Their ability to obtain vaccinations on campus is greatly appreciated. Wesley Lea Hill continues to be a loving and caring place to live.
Gene Barker, page 72
---
I continue to be thankful for the wonderful, consistent care we continue to receive here at Wesley. Life for us is safe and healthy.
Barbara Brassfield, page 17
---
While today we are fortunate to have safety precautions that are less restrictive, thanks to the vaccines, we are always adjusting the safety precautions to what is necessary to protect those in our communities. Wesley is so grateful for the support of residents and staff, their families and friends as we continue to try to keep everyone as safe as possible.