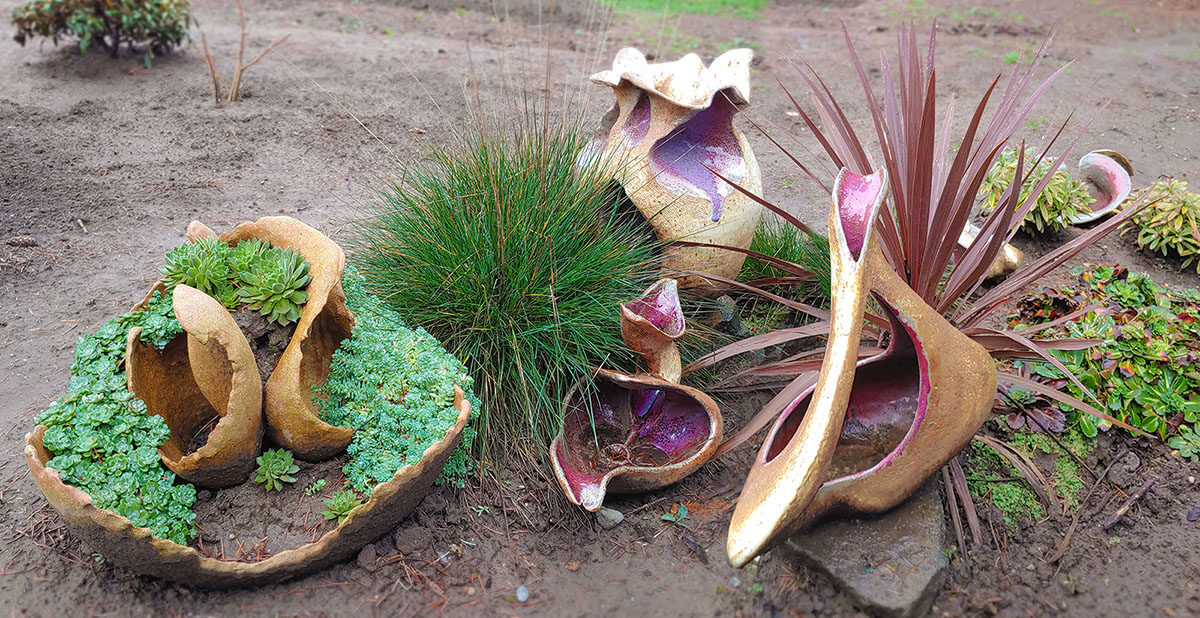 The beautiful sculptures at our community in Auburn that are on display were created by Alex Kamola, a priority reservation list member for Wesley Lea Hill.
Alex is known to those at Wesley Lea Hill as the sculptor who created the beautifully unique ceramic pots that adorn the campus's front doors.
He creates these pieces by meticulously building up the walls of the pot with wet, thin coils of clay. Throughout the process, the pot "takes on a life of its own," said Alex.
He often pairs plants with his ceramic pots, which seem right at home in any garden, as if his sculptures have grown organically from the soil.
This talented sculptor has always had an interest in ceramics art. At 23, he earned a Bachelor of Fine Arts in ceramic sculpture from the San Francisco Art Institute. However, much of Alex's life was spent doing forestry work, which included everything from planting trees to fire fighting. 
It wasn't until he retired that he took up ceramics again to make the sculptures seen today. 
It's clear in his artwork and in his history that Alex has always had an interest in nature.
As a child, he was fascinated by things that grow from the dirt. He would build castles and rivers, collect earthworms and grow flowers and vegetables.
His work in silviculture has no doubt influenced much of his art today. The pieces show his intimate influence over the shape, growth and structure of organic forms. The difference is that with his art, Alex is beholden to no one. He can play without any constraints or rules, except for those of the clay itself. 
Alex often donates his pots to exhibits or gives them to others to enjoy as gifts, similar to the work he has shared with Wesley Lea Hill.
"When I first saw Lea Hill, I thought it looked very posh. Too posh for me," Alex said. He sees himself as a more down-to-earth kind of guy, but he decided to tour the campus nonetheless.
Turns out, Wesley Lea Hill isn't too posh for him. He liked what he saw and made a reservation. While he has not moved in yet, as priority reservation list members, Alex and his wife have been able to enjoy the campus amenities. They swim in the pool, play bridge and have made many friends there.
In this way, Alex has been able to get a sense of what life is like at Wesley. 
"Moving into a community like Lea Hill is a strategic decision," said Alex, "one that I know our children will appreciate."
Alex knows from personal experience what it's like to take care of a parent who made no plans for care later in life. He wants to make sure he and his wife can lift that burden from their children. This is where his plans at Wesley Lea Hill fit in.
Until then, he says the key for him to a fulfilling retirement is doing what he enjoyed when he was a child: connecting with the earth, getting his hands dirty, gardening and sculpting.