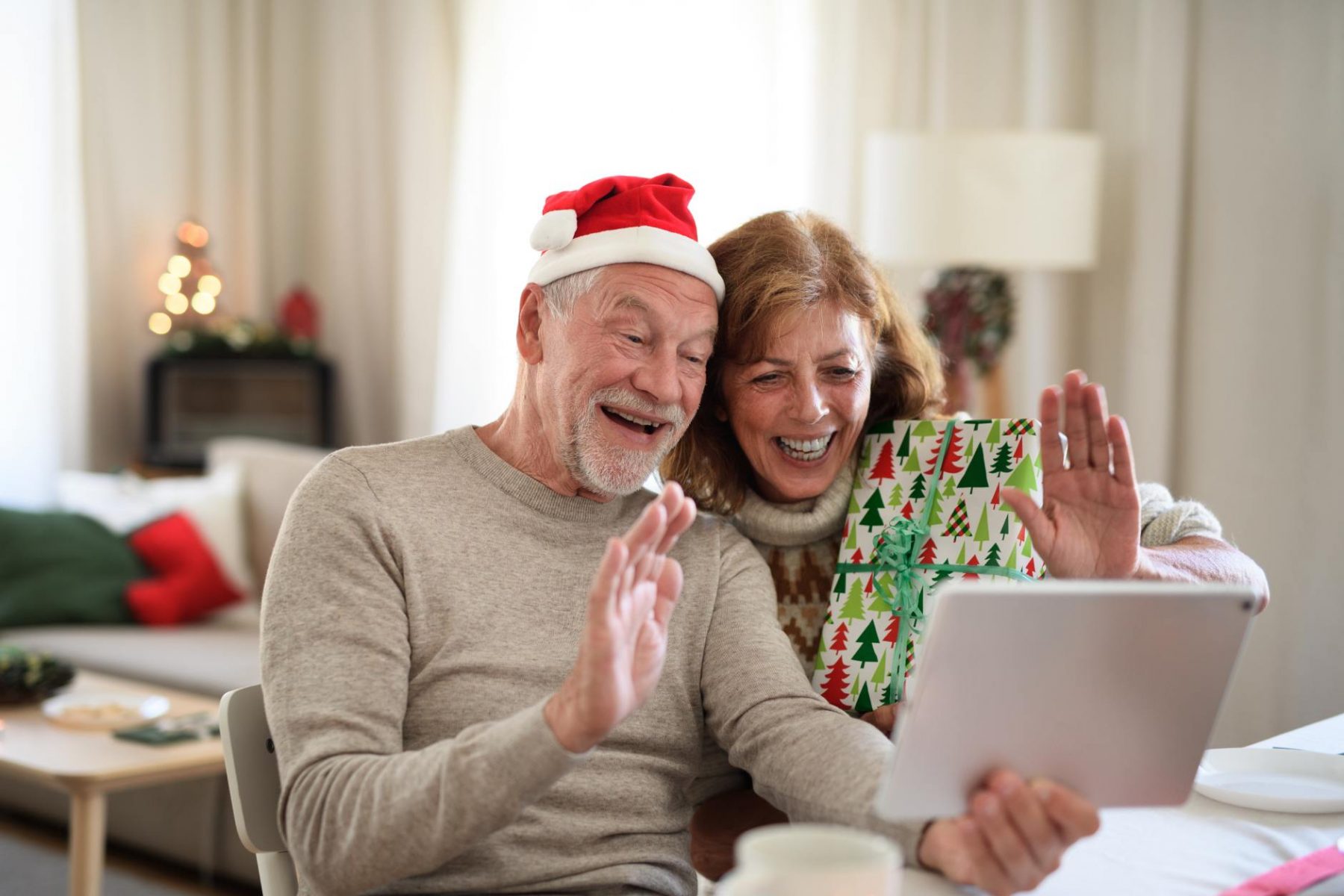 It's that wonderful time of year when we gather with family and friends to share, laugh and love. However, people living with Alzheimer's or other forms of dementia may feel sadness, stress or loss. With added concerns brought on by COVID-19, the holidays can seem even more overwhelming. So how can this be a safe and enjoyable holiday anyway?
First and foremost, whether hosting at home or visiting others, plan ahead!
The safest option is to limit face-to-face gatherings to people within your household. Avoid inviting guests who live far away or live in areas with high rates of transmission as travel increases the likelihood of spreading or contracting COVID-19. If that isn't possible, try these tips to safely celebrate with family and friends with an eye on the safety and comfort of the person experiencing dementia.
Make sure guests are fully vaccinated with both the COVID-19 and seasonal flu vaccines. It's still a good idea to wear masks, get tested, social distance and follow other safety measures encouraged by the CDC. If the person living with dementia resides in a memory care community, check the community's visitation policies.
Discuss the upcoming gathering with guests by phone, email or a group video call. Explain the situation and the changes caused by the disease. Request that guests adjust their expectations and be patient; explain the safety precautions necessary for your loved one's health. Encourage them to help come up with creative seating arrangements for distancing as well as designated food and drink servers.
"Those with memory or cognitive impairment can get overwhelmed and overstimulated easily," said Michelle Rivers, Nurse Manager for Wesley. "Keeping visits and events on the shorter side can be helpful.
"Be mindful of the number of visitors at one time as well as the questions they may ask," continued Michelle. "Introduce everyone or wear name tags."
Asking someone if they remember events or people can unnecessarily inflame what may already be a stressful visit. Try sharing memories, such as a family trip or cooking special meals together. Avoid asking "Do you remember when…"
It's probably best that friends and family don't make impromptu visits to drop off gifts or cards. Ask that they call ahead, which allows you to plan and have a discussion with your loved one about who's coming. Another option is for families to mail gifts, which can be opened during a video call for a group experience.
Social distancing of six feet is still acceptable. Have family members schedule a time to drop off baked goods or care packages, drive by with a holiday parade of festive signs and balloons or have an outdoor visit with hot cider or cocoa. Family can participate in a neighborhood walk to enjoy holiday lights and decorations. These are all things that can be done earlier in the day if your loved one experiences evening confusion (aka sundowning).
If your loved one wanders or experiences sundowning, keep on hand a close-up photo of the person as well as a list of known places the person may seek. If possible, become familiar with the neighborhood.
When attending a gathering isn't possible, try using video call software like Skype or Zoom to connect with family. Keep in mind that cross talk and simultaneous conversations can be challenging for people living with dementia. Structure the video call by making a family recipe, singing carols or sharing photos of past holidays together. If a video call isn't on the table, connect via a simple phone call.
Continue the person's normal routine as much as possible to help avoid confusion, but include the person in the festivities: wrapping packages, preparing food, setting the table or decorating. Try to avoid using artificial fruits, candies and vegetables as decorations since a person living with dementia might think they are edible. Blinking lights can also confuse the person.
"Giving them something simple to help with is a great way to include them and give them a sense of purpose. Quite often those in earlier stages know they are having some difficulty, and they try to mask these with laughter or sometimes anger. Ultimately, the focus should be on the quality of the time spent together and not the quantity of time," said Michelle.
By including the loved one who's experiencing dementia, family and friends can build on traditions and memories by creating new memories they can share. Plus, your caregiving responsibilities become less stressful, and you can enjoy the holidays, too.
Learn More About Memory Care at Wesley
"*" indicates required fields