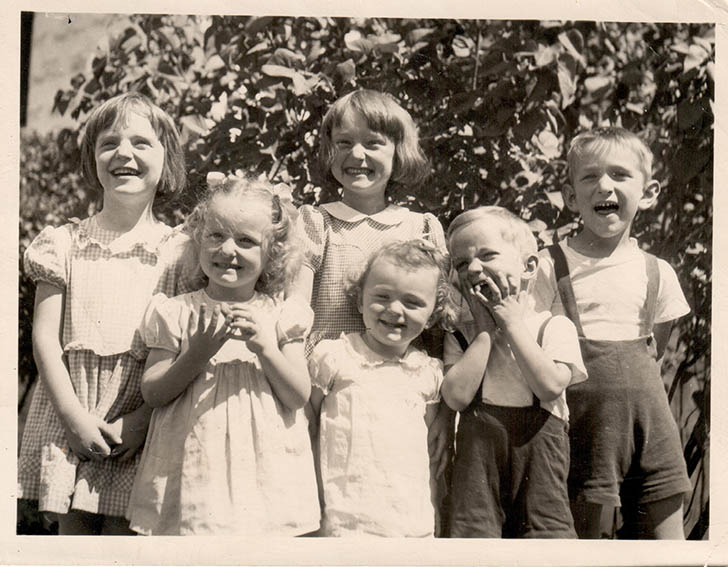 By Carol Smith Hosler and Hal Smith
Perhaps Wesley has seen a first – four siblings all living on the Des Moines campus. Or maybe when the fifth comes, that will set the record.
The first to come to Wesley were Judy and Terry Shimono. They came to the Brownstone in September of 2018.  They had lived in Renton for most of their married lives and raised their two children there. When they realized they no longer wanted to care for their large yard and garden, they signed up for a Brownstone. They had no idea they were starting a Smith family trend but their siblings saw they had made a smart choice and one-by-one decided to move closer together.
It was a year and a half before the next Smith sibling came. Lois Crisler, the eldest, moved to The Terrace in February just before COVID hit us all. She had been living in an apartment in Renton and was delighted that it became possible for her to come to Wesley, too.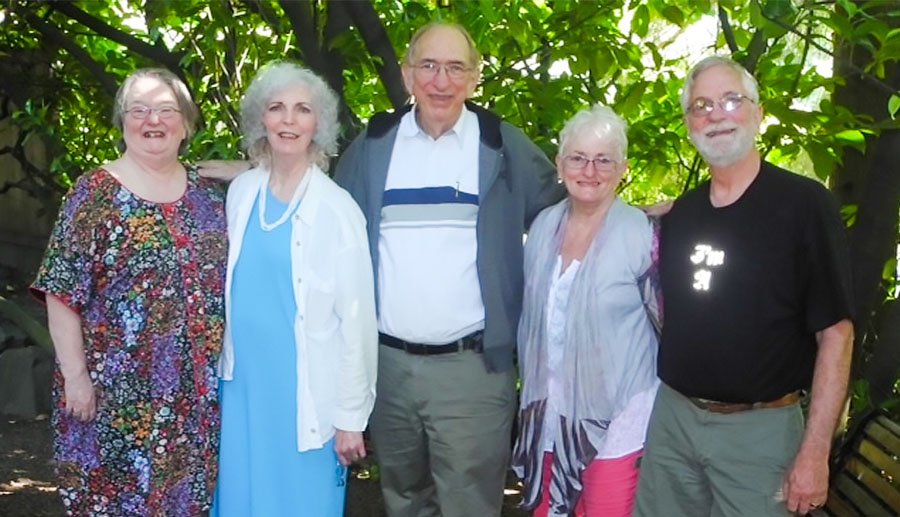 In 2019, Hal Smith and his wife Hollis Ryan signed up for a New Gardens apartment. This spring their house on Mercer Island sold so quickly they had to make a temporary move to a one-bedroom in the Old Gardens – and rent a storage unit for much of their stuff! No sooner had they gotten settled in their new two-bedroom apartment when they drove to Arizona to help Hal's twin sister, Carol Hosler, move to Wesley. Her husband had been an Arizona native. When he died in February, Wesley became a realistic option for Carol, who had spent her college years in this area.
After a four-day drive to Arizona and a couple of days down there to help Carol organize her belongings for a rental truck, Hal, Hollis, and Carol (along with Carol's dog Frodo) caravanned for five days back to Des Moines. She moved into her one-bedroom in the New Gardens on October 1st. The twins are now reunited at ground level, their patios being only yards apart.
But wait! That's not all! The Smith siblings are not done coming. Hal and Carol are not the only twins in the family. Judy has a twin brother Richard who, with his wife Verna, have signed up for one of the new Cottages yet to be built. They hope to move from Kent, where they have lived for many years, to join their siblings in the spring of 2023.
There is one more Smith sibling, the youngest, living in Tempe, Arizona. Lynda joined Carol down there fifty years ago and has lived there since. It remains to be seen if she and her husband Atis Krigers will return to the Northwest to join the rest at Wesley. Only time will tell.
It is interesting that none of the Smith tribe had actually talked about overtaking Wesley Des Moines,  but now that they have moved in, they seem to be doing so (without letting the powers to be aware of the plot, of course).  It is also interesting that three of the six are left handed and three are right handed.  The oldest is left handed, the two sets of twins are each left/right handed and the youngest is right handed. They say both of the male twins were gentlemen – their sisters were each born first.
The siblings' father, Harold Fremont Smith, Sr., was an American Baptist pastor throughout Northern California, Idaho and Eastern Washington. He's been gone for 53 years now. Mother Dorothy died at Judson Park 25 years ago, but "the Smith kids" always remained in close contact. The Seattle area siblings have a long tradition of gathering for holiday feasts. Needless to say, they all look forward to a time when they can rent a Wesley banquet room and gather again with their children and grandchildren.