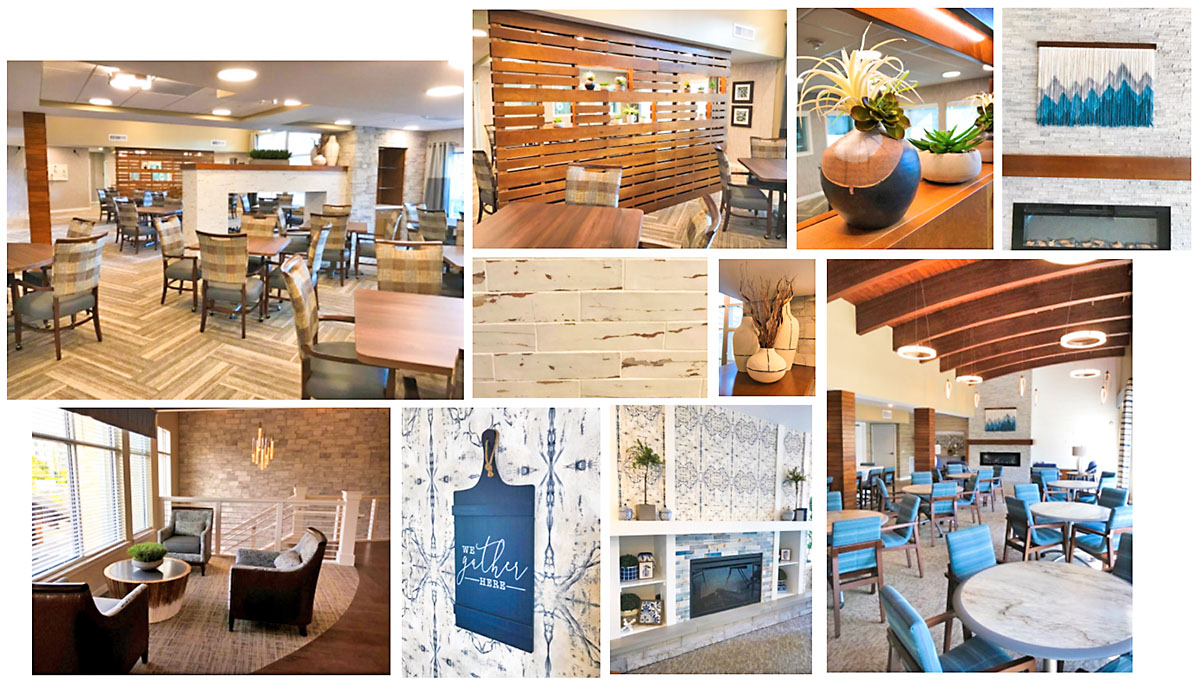 Learn how residents have reshaped our flagship community.
August was an exciting month at Wesley Des Moines. Six years in the making and Phase II of the ambitious three phase redevelopment has reached completion.
As residents and members of the Captain's Club (those with deposits for move in) toured the many community areas of the Town Center, many expressed surprise and delight by the lightness of décor, unique furnishings and ample gathering places.
"Residents were greatly involved in planning the amenity areas in the New Gardens building," said Christine Tremain, VP Marketing and Development. "Their input gave us the Family Lounge on the first floor where small groups and families can meet, make a meal together and spread out onto the outdoor patio." 
Residents were also involved in creating a lounge space on every floor, an educational theater, the little store/market, creativity center, wood shop and library. Of special note, the grand chapel and community room is set up for a variety of programs, especially musical performances. It will soon boast a specially made pipe organ by Paul Fritts & Company in the chapel balcony/music room. 
In the dining room of the New Gardens, large windows look out over the future courtyard toward Puget Sound. Seating is separated by wooden framework screens and a decorative Opti-Myst fireplace. At the current time, capacity is limited in the dining room to provide for social distancing.
The most spectacular view from a community area can be found in the Club Room on the fifth floor. This impressive space has a demonstration kitchen, billiards table and fireplace with an ample balcony for outdoor enjoyment.
Five stories tall, the New Gardens building includes 151 spacious apartments, many with views of Puget Sound and all having a private patio or balcony, full kitchen, in-home laundry and between 770 and 1,810 square feet of living space. As of the end of August, 44 apartments will be occupied.  Another 70 families that reserved apartments early will be moving to Wesley Des Moines in the coming weeks. 
A variety of floor plans are still available and ready for move in.
Tours are available by appointment with our Community Relations team by calling (206) 824-5000 or by filling out the form below.