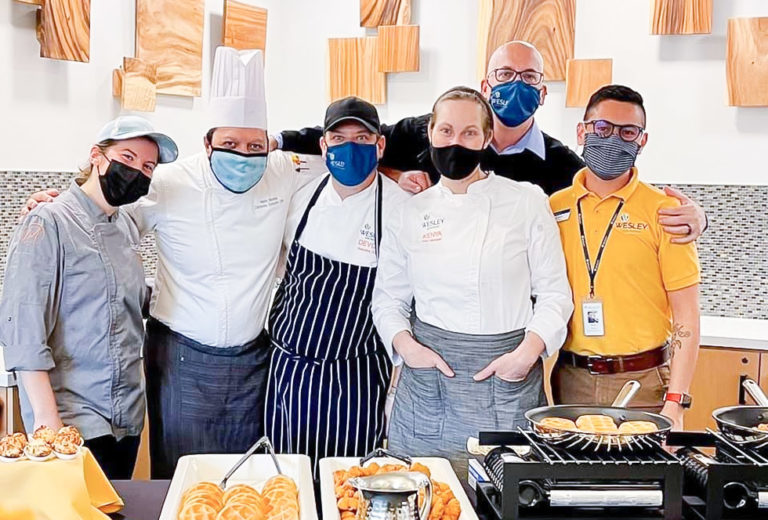 Over 300 guests attended the Grand Opening event for Wesley at Tehaleh in Bonney Lake.
We were challenged by other events going on: traffic congestion and road work and the first storm of the season, which caused power and network outages in the surrounding area. But with the support of all of our residents, volunteers and staff and the many guests that braved the rain and wind to come, it turned into a great weekend.
The culinary team from Morrison provided a delicious sampling of their cuisine, and the Bliss ice cream truck was a great hit despite the cold and rainy weather! To our parking assistants and shuttle drivers, thank you for braving the weather to help facilitate transportation around the campus. To Zach and Laramy from Live To Ascend, our fitness partner; and to our entertainers: Tom Hutyler and his band, Stanley on the Steel Drums and KIXI radio; thank you for supporting us, sharing your talents and adding these special elements to the event.
With everyone's support, visitors were given a true Wesley experience. As Marysusan Iotte, the Campus Administrator, said at the end of the day, "We made people happy!"  There is no better way to share what we have to offer.
As we tallied up the numbers, we were amazed at how many people came together to pull off this grand event. A total of 474 people were involved in our Wesley at Tehaleh Grand Opening event; 337 visitors plus 137 residents, staff and volunteers. 
Thank you again, to everyone who came or supported the Grand Opening. If you weren't able to come, we invite you to call (253) 466-2720 for your private tour. Set up your tour this month, and we'll give you a Wesley at Tehaleh sling backpack along with a current Wesley U catalog and notebook.
Call Lisa or Andrea at (253) 366-6100 today or fill out the form below.