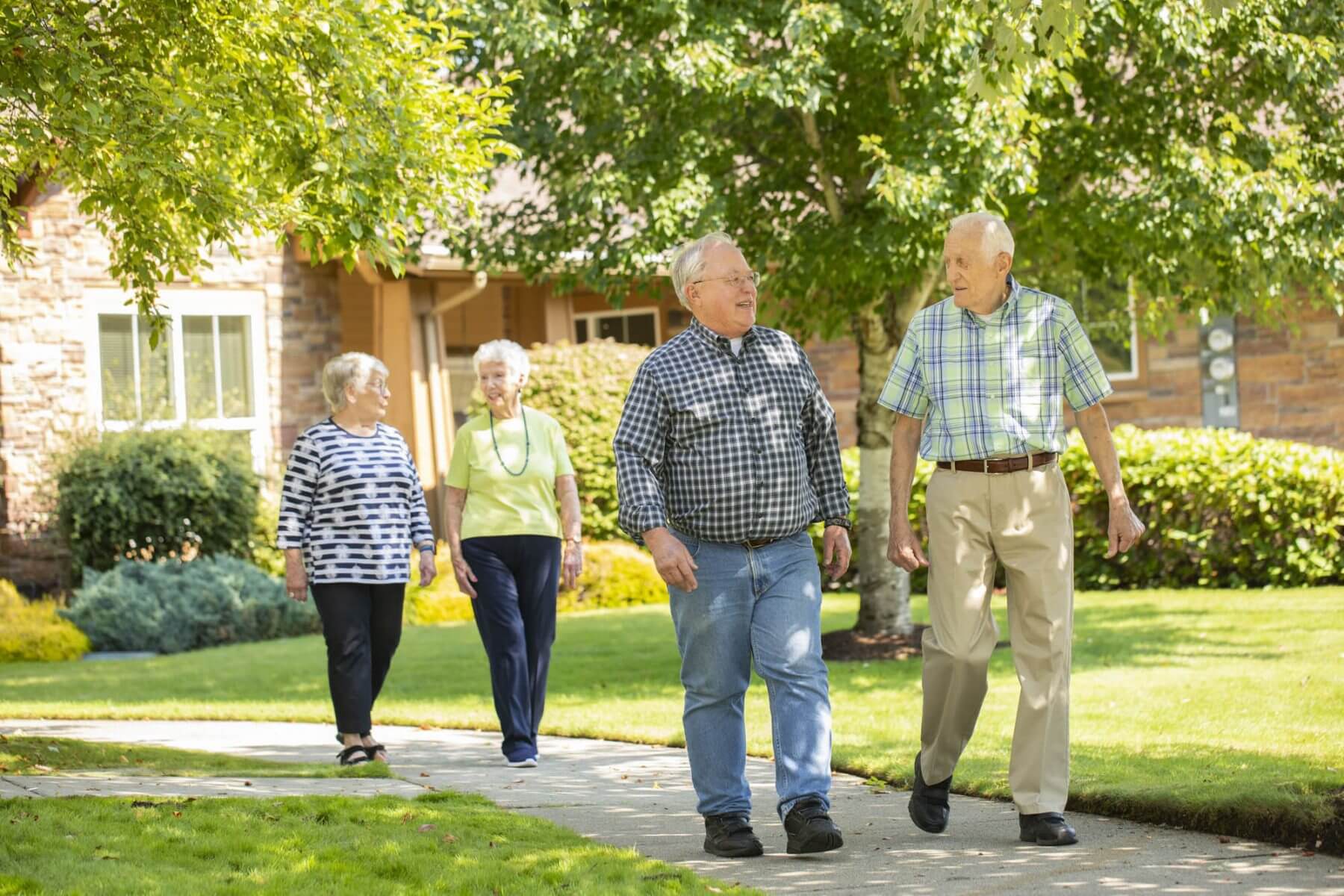 Now that we've talked about the health benefits of walking and the importance of having the right gear, it's time to actually start walking!
We're fortunate in the Puget Sound region to live among trail systems in every direction. Whether you prefer to step across a boardwalk in the middle of a wetland, add a little altitude to your daily stroll or saunter along with full lake or Puget Sound views, our area has a trail for that. Here are some favorites near Wesley campuses.
Wesley Bradley Park in Puyallup
Bradley Lake Park provides an excellent set of loop trails that range from a short jaunt to a walk around the natural lake in just under one mile. The trail is fully wheelchair accessible with minimum elevation changes and some nice forested sections. This diverse habitat in an urban environment often means there are plenty of bird species to enjoy.
Eighty-acre Wildwood Park also provides nature in the city with plenty of paths leading under dense stands of Douglas firs and western red cedars. Wildwood Park is a perfect shady destination to get your steps in on a hot day.
Wesley Des Moines
A new "trail" has appeared in Des Moines. "Ride the Boat" is a fast ferry that transports passengers to and from Seattle in just 40 minutes. Senior tickets are $5 each way. The ferry is scheduled to leave Des Moines on even hours from 10:00 a.m. to 4:00 p.m. and will return from Seattle on odd hours from 11:00 a.m. to 5:00 p.m. The drop-off point, Seattle's Bell Harbor Marina, is a perfect Launchpad to embark upon a .7-mile walk to the Olympic Sculpture Park and onward into Myrtle Edwards Park.
Should you prefer Puget Sound views closer to Des Moines, head to the moderately challenging Valley Loop Trail in 27-acre Marine View Park. It's un-paved and has frequent elevation changes. Further inland, the Des Moines Creek Trail is a four-mile out-and-back paved trail with 236 feet of elevation gain that travels through northwest riparian habitat where the kingfishers issue their rat-a-tat-tat calls and salmon spawn in season.    
Wesley Lea Hill in Auburn
You don't have to go far to hear redwing blackbirds and see great blue herons here, given the Lea Hill campus contains its own wetlands. The 1,230-acre Green River Natural Area is just a short flight away too, where walkers will find over seven miles of trails through evergreen and broadleaf forests. From the O'Grady Trailhead, you can choose a variety of loop distances with minimum elevation changes – about 300 feet total. With short walks on former maintenance roads, the Doreen Johnson Conservation Area is closest to Wesley Lea Hill.
Wesley at Tehaleh in Bonney Lake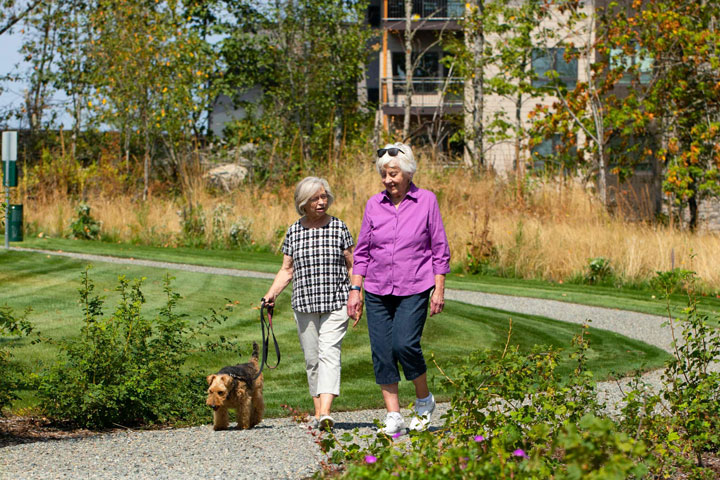 Bonny Lake residents have only enjoyed access to Victor Falls since 2013 when the city created a park after purchasing what was previously private property. In addition to admiring the 70-foot cascade, walkers will find soft paths upon which to tread and plenty of benches for rest.
The Foothills National Recreation Trail is one of the area's best not-so-hidden gems. Starting at the Meeker Trailhead in Puyallup, the Rails to Trails project runs almost 21 miles in length with plans to expand to Bonney Lake and beyond. Rails to Trails conversions usually have mild grade changes which make them great for gentle strolls without too much stress on the body.
And of course, Tehaleh itself is home to over 30 miles of trails teeming with woodlands, wildlife, meadows and wetlands.
Wesley Spring Glen in Renton (coming soon)
At just under 11 acres, Cascade Park offers several distance options for walking trails that meander past the playground and through wooded areas. The Shadow Lake Nature Preserve is a reservation-only park featuring a 1/4-mile boardwalk trail that traverses a rich bog as well as an upland trail system that presents a total of 2.5 miles over four trails. Shadow Lake also offers a variety of classes including Guided Nature Walks and Community Classes that feature local experts who share their passion for our region's wildlife and environment.