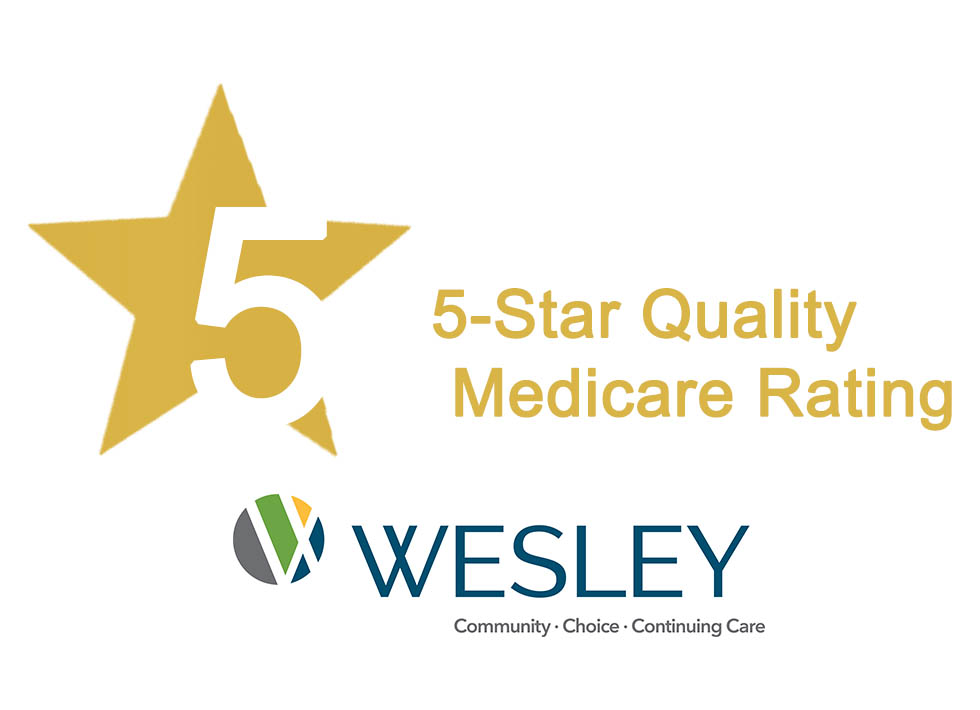 Wesley has recently earned three 5-star Medicare ratings!
Three Wesley health divisions have been awarded Medicare's top marks in this year's state survey.
Wesley Des Moines Health Center earned an overall 5-star rating based on a state review of health inspection, fire safety, staffing and care quality.
"Our five stars signal superior care and personal service," explained Des Moines Health Center Director of Nursing Noel Donato. "The ratings help families know they are making the right decision when they choose Wesley to care for their loved one."
Wesley Home Health's 5-star "quality of patient care" rating, according to medicare.gov, represents the Wesley's excellent care performance when compared to other agencies on care practices and outcomes.
Nationally, only 6 percent of Medicare-certified agencies achieve this level of excellence.
Wesley Health & Home Executive Director Care Melinda Moore put this accomplishment in perspective. "In Washington State, we were one of only two home health agencies that earned 5-stars!"
Wesley Lea Hill Rehabilitation & Care Center also earned a 5-star quality measures rating. This rating relates to the quality of care received by residents, including factors such as staff response time, infection control and low re-admissions.
"In a nutshell, the 5-Star Medicare rating means residents are being well taken care of," said Lea Hill Rehab & Care Center Director of Admissions & Marketing Jamilyn Bloodworth, "We've got nurses and long-term staff who go the extra mile to take better care of residents."
Melinda agreed. Wesley's team approach is a roadmap to success because it measures both the outcomes and the quality of care.
"Even on a hectic day," added Noel, "our staff strive to be personally available to residents – to listen, smile and offer a shoulder to lean on. Many of our staff look at it as caring for extended family."
Most importantly, the three 5-star Medicare ratings show families how hard Wesley works to earn and to maintain its reputation of providing quality care for its residents.
"We have the right people and great processes," said Jamilyn. "As a result, the community trusts us to take excellent care of residents and guests."