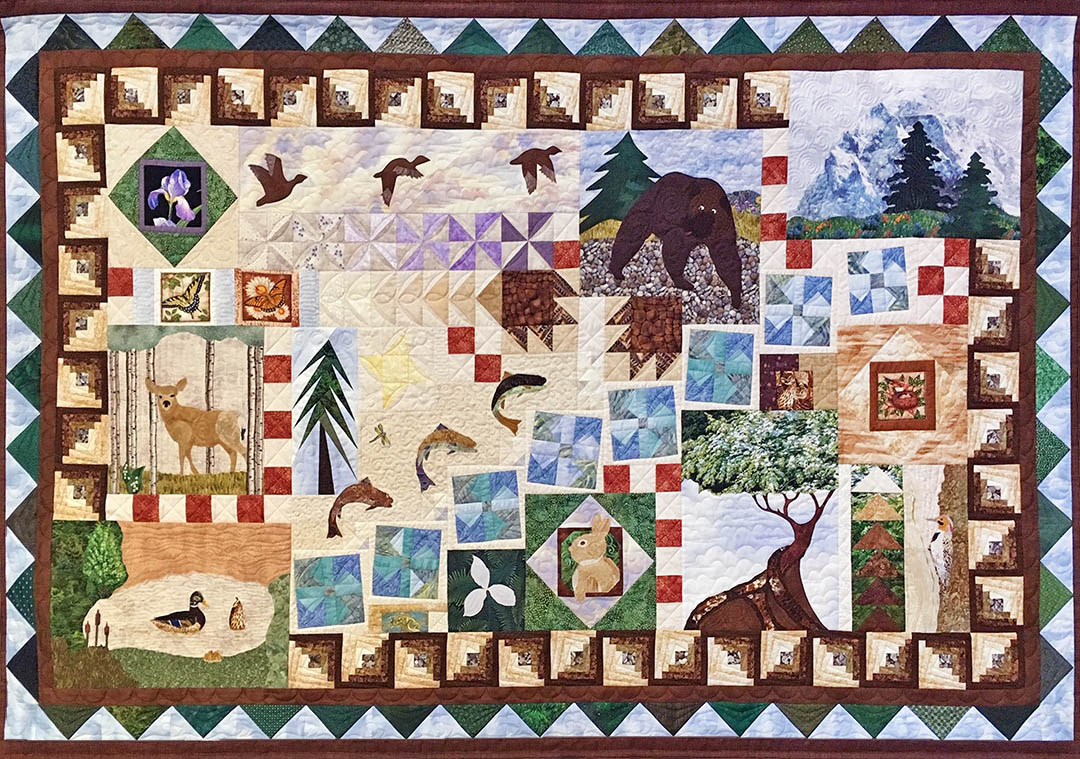 This quilt has been specially made for and donated to Wesley Bradley Park's memory care wing.
This artwork was made by Ginny Christensen, a long-time Ambassador and Pioneer for Wesley Bradley Park.
When Ginny first conceived of the quilt, she felt God wanted her to create something special for her new community. She approached the Bradley Park team with an idea for a quilt. It was decided it would fit perfectly in the memory care wing of Bradley Park.
Wesley showed her the color themes planned for the interior of the memory care wing. This helped Ginny decide on the colors that would be used in the design.
The process of making the quilt had three major parts: the design, the construction (piecing and appliqué) and quilting the layers together.
In the same two years that Bradley Park has been under construction, Ginny worked on the quilt squares. Some are geometric and pieced by machine and others are appliqué– hand placed pieces of fabric to create pictures and patterns.
As she sewed together the intricate scenes, she had a lot of time to reflect on what she was creating.
The quilt is titled 'Our Puyallup Valley Home' and was "inspired by God's creation," said Ginny. It depicts a river running from a grand mountain to Bradley Lake Park, with animals thriving in nature along the way.
The quilt holds a great deal of meaning and symbolism for Ginny, who based many of the scenes off biblical scripture and flora and fauna local to the Puyallup area.
"From the mountains to the pond, a lot of hymns and scriptures came to mind while making the quilt," said Ginny. "The obvious ones were probably 'River of Life' and 'As The Deer', and the centers of the log cabin squares remind me of 'Rock of Ages'."
She hopes that the textured and spiritually inspired nature scenes will resonate with people with memory challenges.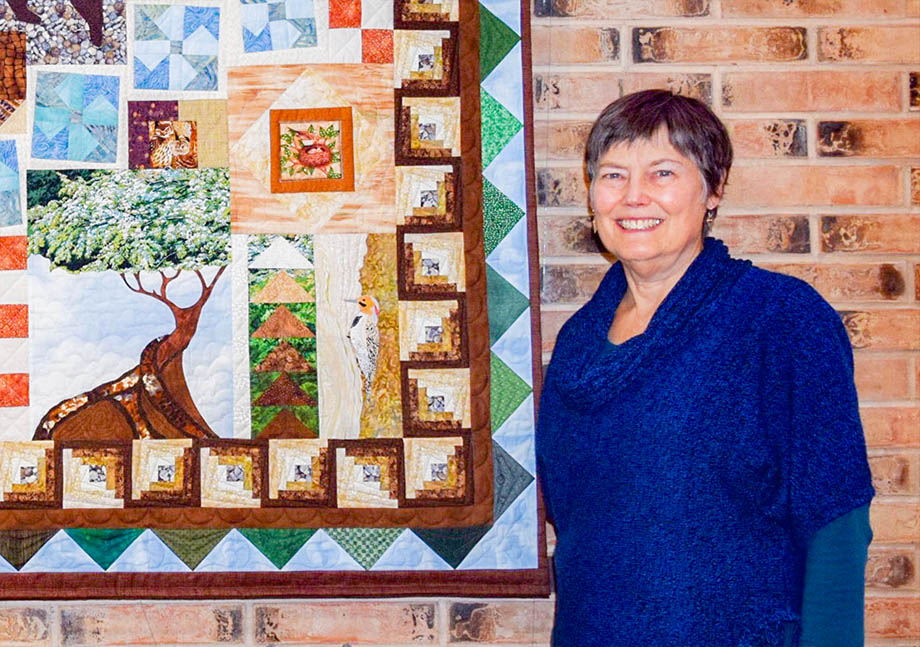 "In memory care, people can sometimes be dealing with a lot of grief, and my hope is that this quilt will bring them comfort and strength," said Ginny.
Ginny reached out to her friend Ginnie Herbert to quilt the top, batting and back layers together.
For Ginny, the quilt is symbolically strengthened by the relationship between Wesley and the Puyallup United Methodist Church, whose congregation blessed the quilt for the memory care wing.
The church's quilting group also donated the various pieces of green fabric used for the mountains represented along the edges of the piece.
"Each one is as unique as we are," said Ginny.
Even though the quilt is for the future residents of Bradley Park, Ginny said the quilt has been a gift for her as well.
"It was a blessing to me as I downsized, sold my home, and waited to move in. I'm excited to give my best to the place where I will be living," said Ginny.