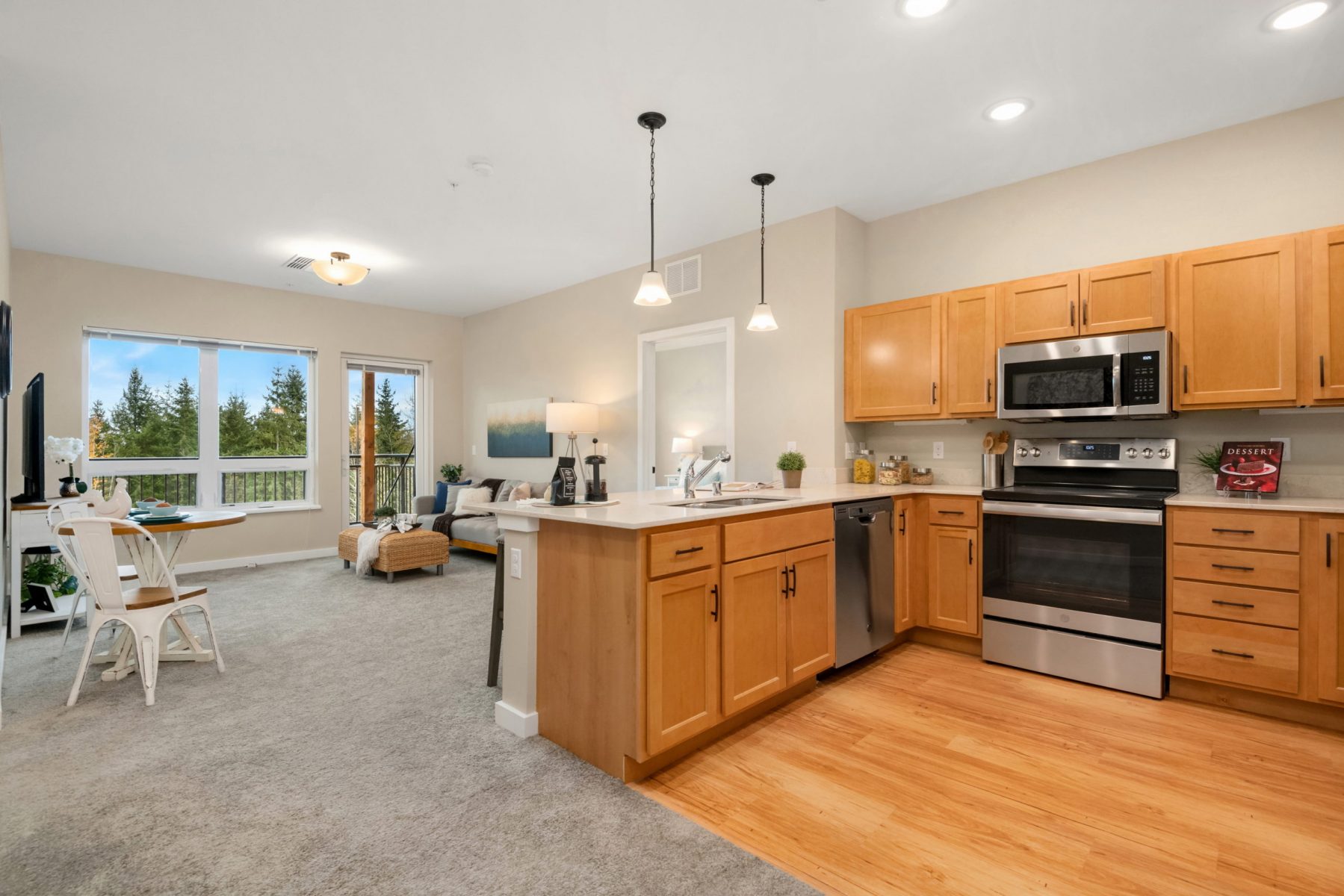 Hear from Wesley residents why there's no better time to move.
Residents of Wesley communities may come from a multitude of backgrounds, but they all have similar reasons for choosing Wesley. Connection and convenience are among the top reasons Nicole, a new Wesley at Tehaleh Brownstone resident, reserved her apartment. 
"I want to be with company. I'm looking forward to meeting new neighbors who are moving in and making new friends," says Nicole.
While she was nervous about purchasing a home under construction, Nicole found comfort in the fully refundable entrance deposit should she change her mind. After touring other communities, Nicole knew she wanted to be in a Brownstone apartment.
"They are beautiful," says Nicole. "The windows are uplifting, and I can't wait to have a garden on my patio. I was excited to choose my flooring and really make it my own."
The large windows are a favorite feature of the new Wesley at Tehaleh Brownstone in Bonney Lake. All six floorplans showcase peaceful, panoramic views of the forest and come equipped with walk-in closets, individual patios or balconies, in-home washers and dryers and full kitchens with stainless-steel appliances. The Brownstone monthly fee includes housekeeping services, apartment maintenance, utilities, underground parking, a club lounge and a daily continental breakfast.
"I like that everything is included. You don't have to worry about the house. There is a place to exercise and meet a lot of people; I'm a person who likes to meet new people," says Nicole. 
While the current rules of socializing have changed, Brownstone residents in Des Moines, Puyallup, Bonney Lake and Auburn have adjusted. During good weather, weekly happy hours in the club rooms morphed into picnics on the sidewalk where neighbors bring their own chairs and snacks and mingle at a safe distance. Potlucks were popular before Covid and will be so again. 
"We socialize carefully. The other day I put cookies in the oven and propped the door open. Within a few minutes, I had three neighbors bringing their coffee to visit. I'm grateful to be here during this time. I would be lonely otherwise," says Des Moines resident Verla. "I love the comradery of my neighbors. We're like our own little village."
As we all continue to take precautions and observe safety protocols, the residents continue their camaraderie while social distancing. Whether in the hallway, at activities, during group exercise classes, during gardening or bicycling, each campus promotes a variety of ways neighbors can safely gather. With convenient indoor and outdoor amenities such as a variety of dining options, personalized care services and organized social events, Wesley residents have everything they need in one convenient location. 
At Wesley at Tehaleh, residents have the added bonus of connecting with the woodland. Surrounded by 1,800 acres of parks, forested walking trails, dedicated open space and inspiring views of Mt. Rainier, each element of Wesley at Tehaleh is inspired by nature. It is not unusual to see elk during the early morning hours near Wesley at Tehaleh. 
"We wanted to capture the beauty of this community, so we incorporated natural finishes of wood and stone into the modern architecture as well as large, bright windows into the apartments," says Lisa Osterloh, Community Relations Director for Wesley at Tehaleh.
Residents and their families are invited to enjoy picnic areas and gathering spaces designed to challenge your body and mind. Let your furry friend run loose at the fully fenced off-leash dog park, Hounds Hollow, featuring an agility course, a spacious grassy field and pooch-friendly trails. Afterward, cool off with a handcrafted specialty drink and delicious pup cup from the community coffee shop while you enjoy the views of the Olympic Mountains, Mount Rainier and the surrounding greenery.
As your care needs change, Wesley can assist at each step of the aging process, from independent living options to the signature Catered Living program, which is more flexible than traditional assisted living. Wesley communities also offer a secure, assisted living memory care program with licensed, 24-hour nursing care.
For details on any of these available accommodations at Wesley, please call (253) 466-2720 or fill out the form below.
Oops! We could not locate your form.