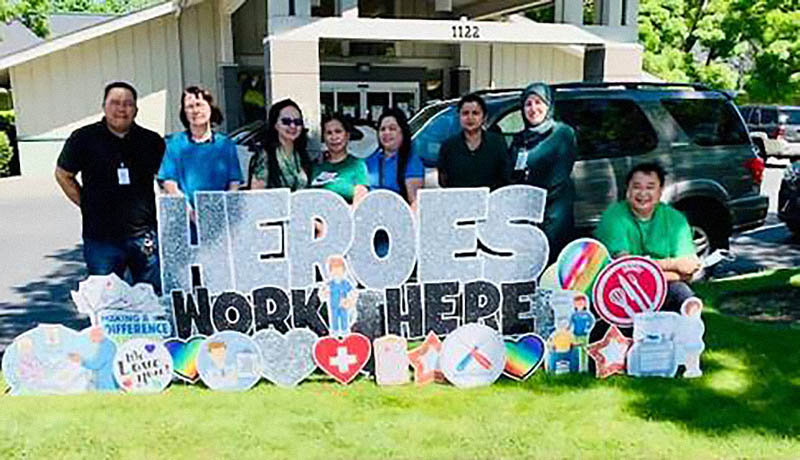 With Wesley campuses vaccinated, our communities are finding ways to show appreciation for the staff who have worked so hard to keep our communities safe and engaged during the pandemic.
Wesley Lea Hill held a dinner and showed a movie at the "drive in" for staff. On April 16th, they screened "Guardians of the Galaxy" and served hot dogs, popcorn, candy and sodas.
We had a pretty good turnout with about 10 cars and their families.
"It was a great bonding time for staff, and the kids loved it!" said Jamilyn Bloodworth, Lea Hill Rehabilitation & Care Center Admissions Director.
Maintenance set up an inflatable movie screen, and we were able to provide sound through a speaker system. It was a bit windy while we set it up, but everything ended up working great. We look forward to doing it even bigger and better next time!
The employees had a lot of fun and felt very appreciated.
On April 29th, Lea Hill had a special staff lunch with Caesar salad, gnocchi with pesto and sausage, linguine with marinara, cheese stuffed pasta, garlic bread, orange-lemonade and lemon cookies with blueberries. The staff enjoyed the cuisine and the opportunity to lunch with people from other departments.
In recognition of Nurses Appreciation Week, Wesley Des Moines's spirit week was themed "Together Through the Seasons." People were encouraged to wear a different outfit each day dedicated to each season.
Some of the themes included "Wear A Flannel" for winter, "Anything Tie-Dye" for spring, "It's Grease Lightning" for a 1950s summer, "Sportswear" for fall and lastly "Family Reunion" to celebrate being together as a work-family. For the fall theme, every department was placed in different groups to wear their work-family color.
"It was amazing to see all the outfits and creativity from all staff members throughout the building!" said Vanna Toaono Patu, a Resident Engagement team member.
Throughout the week, they also chose a food or drink item to pair with the theme of the day. Staff were given fresh baked cookies with the message "Chip, Chip, hooray! We appreciate you every day!" Another day had donuts with a sign "We DONUT know what we would do without you!"
In the middle of the week, a few departments came together to host a staff appreciation lunch for all shifts. While the Des Moines team members enjoyed their lunch, they also enjoyed a little carnival of entertainment the Resident Engagement team put on for the residents.
The week ended with a classic family reunion barbeque. Although the barbeque was for staff appreciation, it did not stop many tremendous people from volunteering to help serve and work the grill!
Work-families gathered and enjoyed each other's company and took photos in front of a huge "Happy National Nursing Home Week" and "Heroes Work Here" lawn signs rented from a local business.
Lastly, the Resident Engagement team put together an appreciation box with trinkets and treats for each head of the department at the Des Moines Health Center. The boxes held notes of appreciation written specifically for each of them and expressed how grateful we are for their department staff and all they do as leaders.
Wesley Bradley Park will have an outdoor party in July as a way for the community to safely celebrate a vaccinated campus and to appreciate staff, who will eat for free. Otherwise, proceeds will go to resident committee groups. They will be having a food truck, dunk tank, games and live music.
With Weslet at Tehaleh's grand opening coming up in September (more information to come!), Wesley communities are excited for the future!