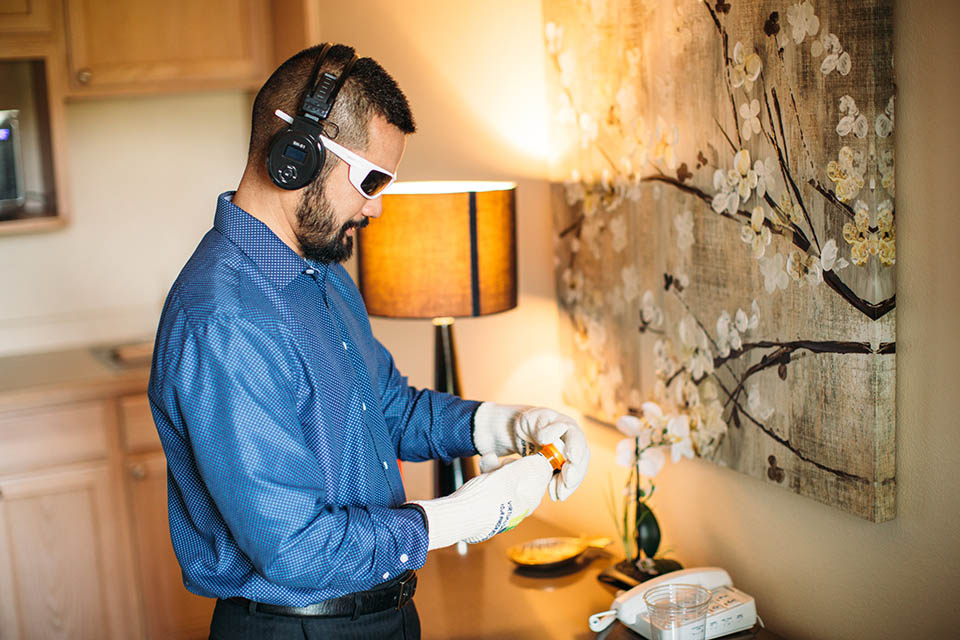 Wesley has started a new, hands-on dementia training program to help improve person-centered care.
The Virtual Dementia Tour is a clinically developed, evidence-based program that offers participants a hands-on simulation of what it's like to have dementia.
The program was brought to Wesley Des Moines by Chaplain Michael Byrd and funded by the Wesley Community Foundation's Greatest Need fund.
The dementia kit simulates impairments that people who have dementia may be challenged with on a daily basis.
Participants wear thick gloves with some of the fingers sewn together to hinder dexterity as arthritis would. Included is also a pair of glasses that simulate visual impairment through dimming and distortion. There are also headphones that muffle external noises and also plays internal sounds designed to stimulate auditory hallucinations or noise overload. This includes sounds of humming machinery, phones ringing or indirect voices.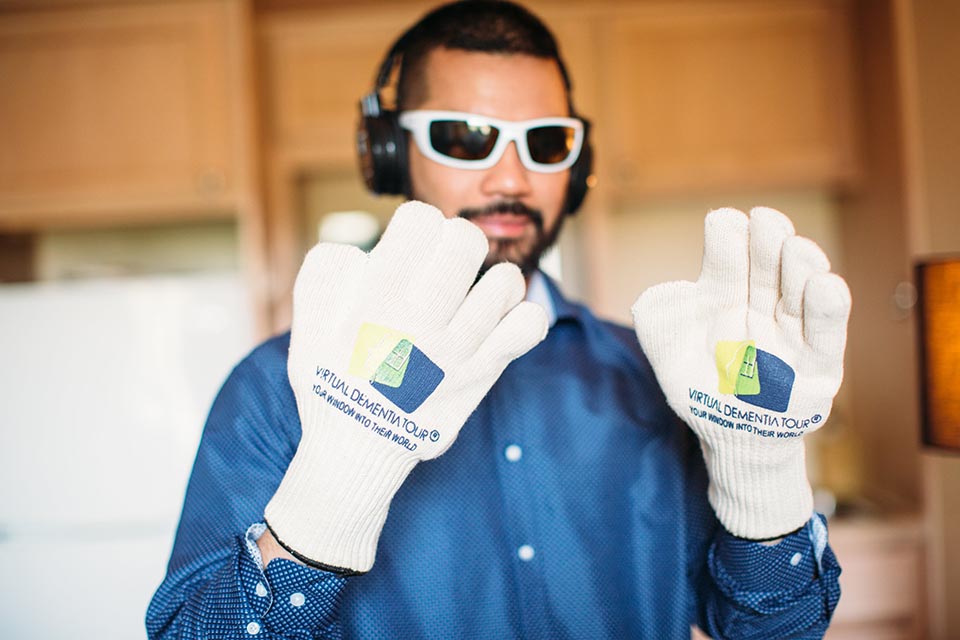 Participants are then given tasks, such as choosing a certain medication and dosage, counting and sorting change or putting batteries into a flashlight.
"What people find is that these simple everyday tasks are made infinitely more challenging when facing them with these simulated impairments," said Mike.
The goal of the program is to promote a deeper and more empathetic understanding of the illness, encouraging "person-centered care" and building a greater staff-resident rapport.
Since June, the program has been in full swing. Training of the nursing staff is nearly complete, and staff are already experiencing a positive affect.
"The people who have done it love it. Despite their formal training, experiencing dementia first-hand can be powerful. People will sometimes cry after the experience," said Jeannine Lee, RN, RCM, who has been administering the training for the Des Moines Health Center.
Jeannine says that staff complete the program with new ideas about what they can change in their daily work to make the lives of the residents easier and more fulfilling. Many people become inspired to be more patient and to break tasks into smaller steps. Some staff have also recognized ways to remove distractions from the environment so that people will dementia will have an easier time.
When he's introduced selective aspects of impairment to simulate, Mike's had great success with the program in his Alzheimer's caregiver support groups. He said the program helps caregivers figure out how those with dementia are experiencing the world around them.
"It helps people realize that they're just like us. They're just doing the best they can with what they have," said Mike, "but because people with dementia cannot join us where we are, we have to join them where they are."
After training with the nursing staff is complete, the Des Moines campus will begin training all other non-nursing staff at the health center. Culinary, Environmental Services and other employees will be able to benefit from the program as well, completing the training with increased compassion, understanding and quality of care.