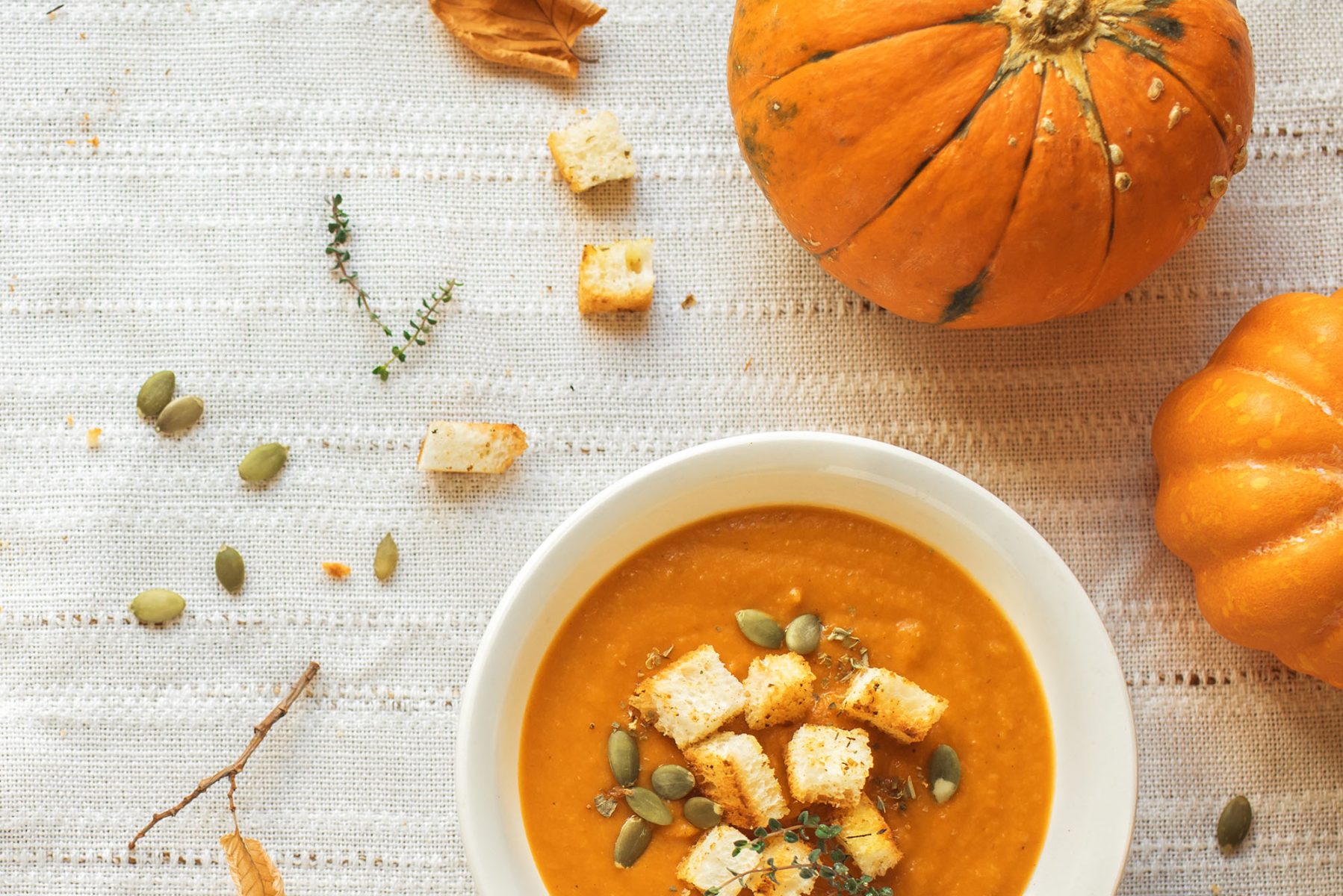 The holidays conjure memories of making meals with family in the kitchen, creating new traditions with friends and sharing stories while gathering around the table with those we love. Wesley is kicking off the holiday season with a unique opportunity to learn new perspectives on preparing food from a broad and diverse set of culinary talents representing all the Wesley communities.
This month's Wesley Teaching Kitchen will get you learning, cooking and enjoying the delights of pumpkin, which can help boost your immune system, enhance your mood, and provide an excellent source of fiber. This healthy fall favorite is the star of November's Superfood Series featuring recipes from Wesley's executive chefs.
Teaching Kitchen Superfood Series Pumpkin Delights
Wednesday, November 10 @ 2:00 p.m.
Join us online for this exclusive Wesley Zoom Event
On the menu for the afternoon is Vegan Coconut Curry Pumpkin Soup created by Chef Dan Wemhaner of Wesley Bradley Park, Butternut Squash Tacos prepared by Chef Perla Geraghty of Wesley Lea Hill, Pumpkin Cheesecake made by Chef Kenya Berding of Wesley at Tehaleh and Baby Arugula Salad with Pumpkin and Goat Cheese showcased by Chef Devon Boisen from Wesley Des Moines.
"I'm extremely passionate about food and enjoy sharing that with everyone. I love the opportunity to teach people of all ages and levels and watch them have as much fun creating food as I do," explained Chef Devon.
We've included some recipes from the chef hosts of the webinar to entice your taste buds and celebrate the classic fall ingredient, pumpkin.
Vegan Coconut Curry Pumpkin Soup
Chef Tip: "Recipes are a little more than a guideline. Play with the recipes and explore new ways to prepare them. Don't be afraid to substitute ingredients that make the dish more enjoyable for you. Playing with the recipe is part of the fun of cooking!"
Chef Devon
Ingredients
1/4 cup coconut oil
1/2 tsp salt
1 cup diced yellow onions
1/4 tsp ground coriander
1 clove garlic, minced
1 pound steamed diced pumpkin
1 tsp Thai red curry paste
1 cup light coconut milk
3 cups vegetable broth
1 bunch chopped cilantro
Directions
Heat the coconut oil in a deep pot over medium-high heat.· Heat the coconut oil in a deep pot over medium-high heat.
Stir in the onions, garlic and curry paste; cook until the onions are translucent, about 5 minutes.
Mix in the vegetable broth, salt, coriander and pumpkin.
Cook and stir until the mixture comes to a simmer, approximately 10 minutes.
Cover and simmer for 15-20 minutes, stirring occasionally.
Whisk in the coconut milk and the cilantro and cook for an additional 5 minutes.
Nutrition Facts Per Serving:182 calories; protein 2g; carbohydrates 12g; fat 14g; sodium 600mg
Sign up for the Webinar for a live demonstration of this and other recipes