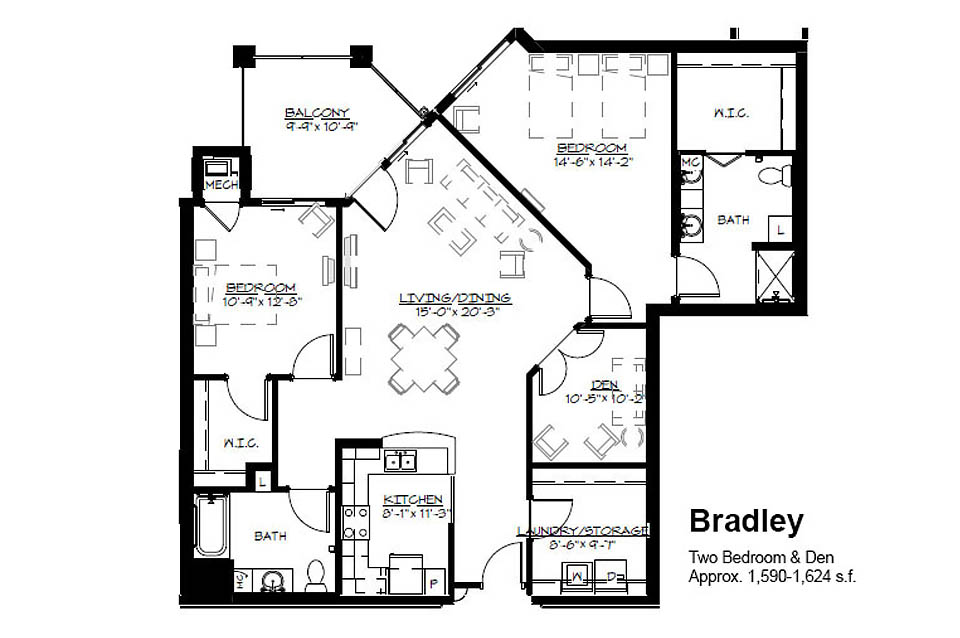 This spacious two bedroom apartment is in the Lodge at Wesley Bradley Park.
The Bradley is a distinctive floor plan you can reserve in the Lodge in Puyallup. This 1,500+ square foot apartment has two large walk-in closets, a den, two bathrooms, a balcony and an extra large laundry and storage room. The apartment is oriented to offer a beautiful view of the eastern hillside.
This apartment provides easy access to campus amenities, including the creative arts center, clubroom, library, health and wellness center, theater-style learning center and dining.
The campus will also feature walking trails leading to Bradley Lake Park, making it easy to enjoy the natural surroundings.
When you reserve an apartment at Bradley Park, you can expect comfortable, independent living on a beautiful campus and in a friendly new community. Enjoy maintenance-free living, 24-hour emergency staffing, gardens, picnic areas, walking trails, spiritual care and continuing education programs.
For details on this or other available accommodations at the new Bradley Park campus, please contact Lisa Osterloh at 253.466.2720 or fill out the form below.