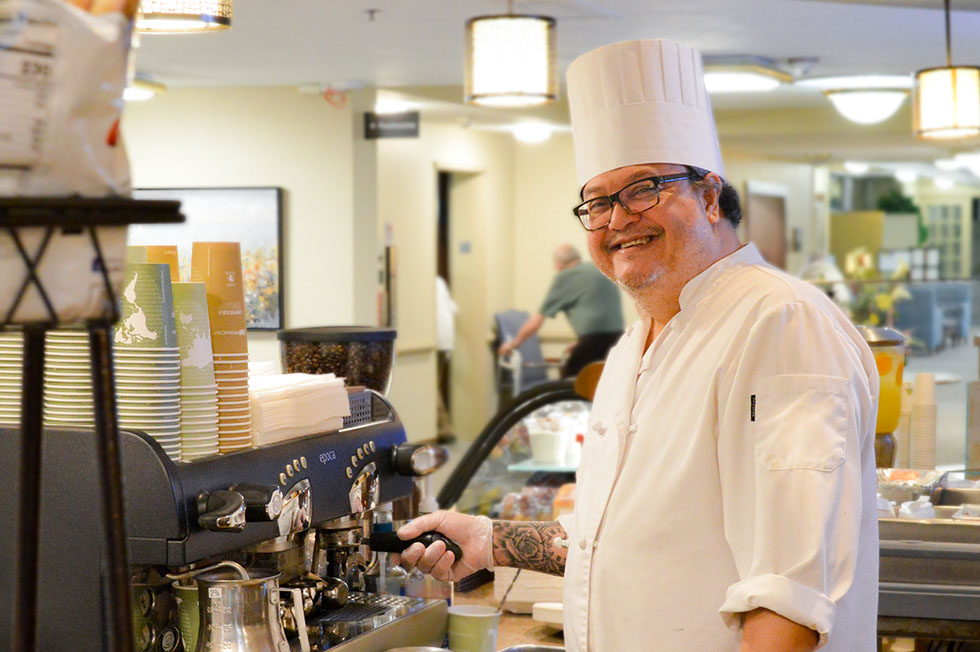 From staff to residents, the spirit of giving thrives at Wesley.
By Ellen Johanson, Annual Giving Manager
Wesley Community Foundation
Chances are you have probably heard, "It is better to give than to receive." It is well-known since the person credited with saying it was Jesus Christ, so the saying has been around for about 2,000 years. Though it's a famous biblical quote, is it really true?
That depends on whom you ask. Many people will readily agree and love to give. Others, if they are truthful, will tell you they like to be on the receiving end. No doubt there are plenty who simply refuse to take sides and actually enjoy both giving and receiving. I'd bet you a latté that Jorge Britez, cook, barista and customer-service provider extraordinaire at the Rainier Bistro in The Terrace is one of those.
"I love to help people," said Jorge. "It makes me happy."
Jorge has worked at Wesley for 11 years as a cook, making all types of food from salads to desserts and everything in between. Originally from Argentina, Jorge lived three years in France where he practiced his culinary skills before coming to the United States. He worked at Snoqualmie Falls as a baker and didn't mind the early morning hours required of hotel employees. It's easy to see that flexibility and helpfulness are two traits that make him an excellent team member. 
"I know a lot of residents and they know me," he said. "I know what they like to order."
Jorge has travelled the world, but hopes to be able to retire from Wesley. He describes Wesley residents as his family. 
"I always try to do my best for the residents. I love to work with them," he said.
Another thing Jorge appreciates about the people at Wesley is how they help others during difficult times. Wesley Community Foundation helped Jorge this year with an employee emergency assistance grant. He recently became an employee stakeholder during the Step up to Stakeholder Status Employee Giving Campaign. Now he wants to encourage others to give, too. 
Each year as part of the holidays, Wesley Community Foundation encourages people to give to the Tree of Lights.  As an Annual Giving event, the Tree of Lights serves as the kick-off celebration to year-end holidays; it allows supporters of the Foundation to participate in a long-standing tradition of honoring those they love and remember. A special ornament naming your loved one is hung on a Christmas tree at one of our three communities: Bradley Park, Lea Hill or Des Moines. Donations from the Tree of Lights may be designated to any number of Foundation funds, including each community's Greatest Need or Circle of Concern benevolence funds. Additionally, Hospice, Capital Campaigns and the Employee Assistance Fund, which provides educational and emergency grants to employees, may benefit from your generous giving.
In just a few short weeks, we will find ourselves facing the hustle and bustle of Thanksgiving, Chanukah, Kwanzaa, Christmas and New Year festivities when people will focus on gratitude, giving and celebration. 
May you, like Jorge, discover the joy of helping others—especially members of the Wesley communities—by making your Tree of Lights donation here.