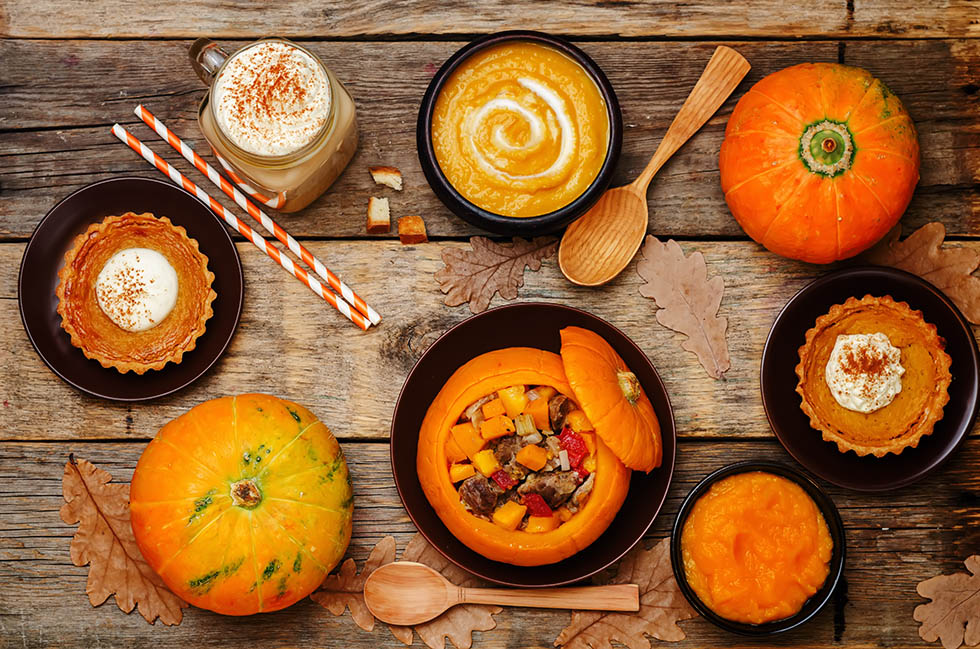 From Patches to Spiced Lattes, Check Out All The Ways To Celebrate This Fall Fruit
With National Pumpkin Day right around the corner, October 26, it can only mean it's time for a frenzy of pumpkin obsession. From festivals to spiced lattes, here is our exciting list to satisfy all your pumpkin cravings.
Let's Eat
Each year the U.S. produces nearly 2 billion pounds of pumpkins, which means there is no shortage of what you can create. From savory soups, pasta, and oatmeal, to sweet pies, cheesecakes, and cookies, there are a variety of ways to embrace this fall season. 
Teal Pumpkins
For an estimated 8% of children in the U.S. with food allergies, Halloween can be a scary time. The teal pumpkin project raises awareness for food allergies and offers non-food trinkets and toys in a separate bowl, making Halloween safer and more inclusive for all. To participate, place a teal pumpkin on your doorstep to tell trick-or-treaters you have a non-food treat available, such as glow sticks or small toys. 
Drink Up
The pumpkin spice latte is the quintessential representation of fall's arrival. This espresso drink, sweetly spiced with cinnamon, nutmeg, and clove, graces coffee shop menus across the country. 
Illuminate the Night
Once you've scoured the patches and grocery stores for that perfect winter squash, it's time to get carving. Try spritzing a bleach and water solution on your jack-o-lantern to keep mold at bay. Get creative this year, dress up your pumpkin in black lace, bedazzle with jewels, or attach ribbons for a chic and stylish twist. 
Decorate
Dust off your fall decor and give it an extra boost inside and out! Stack pumpkins of different sizes or elevate them on candle holders. Use different colored pumpkins in planters, under a cloche, or in glass cylinders. White pumpkins have increased in popularity and are specifically bred for their ghostly hues.  
Pumpkin Patches
From pumpkin chunkin', festivals, and bake-offs, pumpkin patches are busy this time of year. Did you know the largest pumpkin tipped the scales at 2,624 pounds in 2016 in Belgium?  
Pets
Don't leave out your furry friends, veterinarians may recommend canned pumpkin as a dietary supplement for dogs and cats that are experiencing certain digestive ailments.