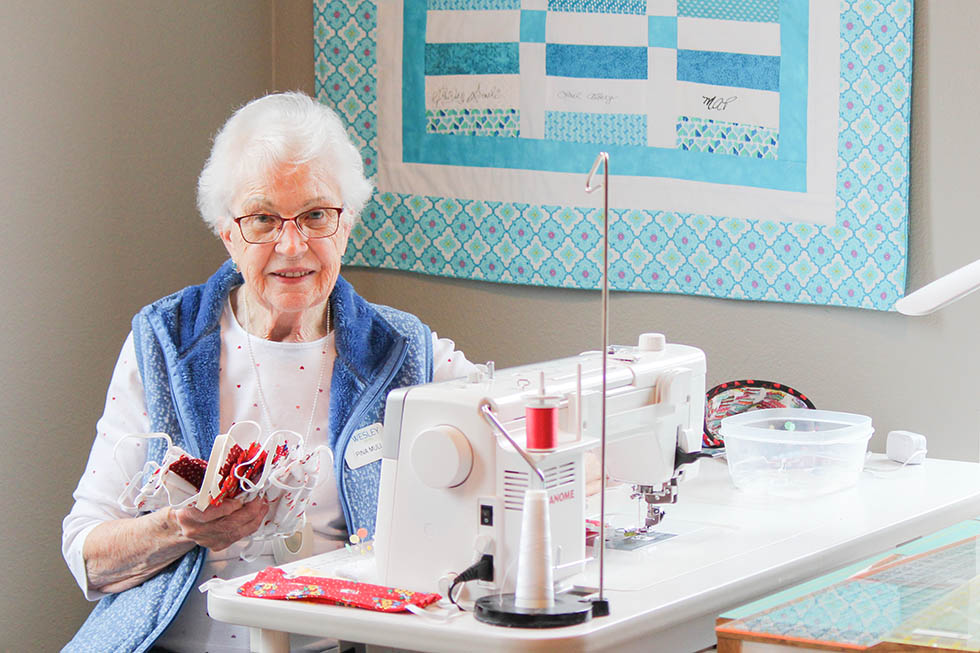 Learn how Wesley residents and staff are supporting their communities.
Around the world and here in Washington State, we are dealing with a shortage of masks for our healthcare workers. While Personal Protective Equipment (PPE) requirements for caring for patients with COVID-19 include a specific type of mask, gown, gloves and goggles or face shield, the shortage of masks has prompted Wesley communities to start making homemade masks for caregivers and care receivers without visible symptoms.
Many residents and staff have stepped up to help make protective face masks to donate to our care center staff and Wesley Health and Home Care teams. 
This endeavor began at Wesley Lea Hill where the resident quilting group has already made about 300 masks for the care staff at Lea Hill.
"It's wonderful to be able to provide this protection to our health care workers and our community," said Donna Conley, one of the lead quilters at Lea Hill. She, Jean Fisher, Pina Mull, Pat Chubb and several others said they feel grateful to be able to help provide such a valuable benefit to their community during this challenging time.
Wesley Bradley Park residents are also helping to make cloth face masks for the staff. 
Resident Ruth Sims is heading up the mask-making crew at Bradley Park along with Lee Grau, Sharon Shores and Ann Miller.
So far, they have sewn over 100 masks for their community. 
The fabric used is from donations received for our Creativity Center, and the elastic was a joint effort of many residents digging through their sewing kits!
They are currently out of elastic but are hoping to procure more or find a suitable alternative.
At Wesley Des Moines, the campus's Resident Engagement team is setting up a group to stitch face masks to donate to our Wesley staff. They are working to procure supplies to help the group with the production of face masks. 
Joy Erickson, who runs a stitchery business, has volunteered to help. Along with Joy, Donna Wilson, Janet Jackson and Jan Slezak are few of the residents who have offered to help with this project. 
A few Wesley staff members have also joined in. Tamera Barrier, Home Health Administrative Assistant, started making cloth face masks along with her friends and coworkers. She and other staff members like Karen Cleven, Victoria and Emma have donated around 100 masks to Wesley Health & Home Care and Wesley Hospice. 
As the need for protective gear continues to grow, our residents and staff are working hard to help provide protection for each other. Wesley is inspired by what the people in our communities are doing to help one another.