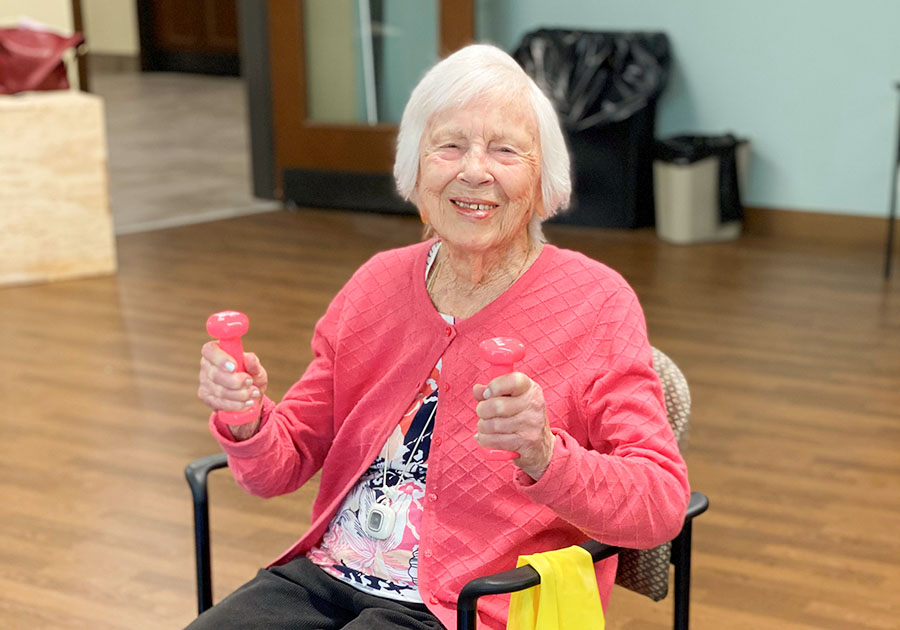 At 100 years old, Harriet is loving her journey at Wesley.
Along that journey, there are many people and places that give meaning to life. Harriet Farman, a long-time resident of Wesley, lives her journey joyfully.
Having lived previously at Wesley Des Moines and now at Wesley Bradley Park, Harriet is a cherished friend of Wesley Community Foundation. She has frequently participated in Wesley's annual day of giving, which celebrates 11 years this May. Known as Wesley Gives BIG, this spring fundraising event is a tradition that many residents and employees look forward to each year. This year, we hope to raise $100,000 on our Giving Day, which takes place on May 4, the day after Harriet turns 101! The funds raised will support our fitness and education programs, as well as capital projects on each Wesley campus.
Our theme is Wesley Gives BIG Because We Care! You are invited to help your Foundation support the people, programs and places that make Wesley a special place to live and work. When asked why she supports Wesley Gives BIG, Harriet says, "It just seems appropriate because I live here." She adds that she hopes a lot of residents will give this year, not only because we have many new residents on our campuses, but also to keep Wesley programs alive and well. Harriet knows that the types of activities supported by the Foundation help residents thrive in body, mind and spirit.
More than merely a destination where Harriet lives, Wesley is a place she loves. Harriet has many friends at Des Moines where she lived for 17 years. Now Bradley Park makes her happy because she has met new friends, and she enjoys living near her daughter who has an apartment in The Lodge. "I feel very beloved," says Harriet, adding, "I've had many happy years at Wesley."
Harriet also enjoys her personalized fitness sessions with Chelsea, Bradley Park's dynamic fitness instructor. Whether lifting weights or stretching muscles, Harriet is up for the challenge. She loves keeping herself physically and mentally alert. Her advice to people who may be skeptical of exercise classes at age 100 is, "Try it now! You may be good at it or maybe not, but you won't know unless you try." It's that type of can-do spirit that will help us reach our goal of raising $100K on our giving day.
Did you know that funding raised in part through Wesley Gives BIG allows Wesley Community Foundation to pay for professional-grade exercise equipment for all our campus fitness rooms? You'll find treadmills, elliptical machines, weights, balance balls and more at Bradley Park, Lea Hill and Des Moines, perfectly suited for beginner or experienced exercise enthusiasts.
When creativity was required of fitness coordinators during the COVID lockdown, the Foundation purchased sound systems and a trolley-cart to transport fitness equipment such as weights, stretch bands and balls, so residents could exercise outside on sunny days.
Harriet lifts weights and stays flexible with personalized fitness sessions from Chelsea.
What will you do when you're 100?
"I suspect I learned to be a giver from my parents," says Harriet, adding that the financial gifts she gives make her happy because "I know how much good the Foundation does–especially through the Circle of Concern to help people who run out of money."
Being safe, secure, healthy and happy in the homes we love–isn't that what we all want as we age? Wesley communities provide that freedom of choice, and Wesley Community Foundation, in partnership with you, makes those wishes a reality.
Save the date for Tuesday, May 4, and join the fun as Wesley Gives BIG Because We Care!