Wesley at Tehaleh recently introduced a valuable addition to its range of amenities. The Market is a self-service, one-stop shop that offers an array of snacks and sundry items for residents 24/7.
Betty Hernandez, Director of Dining Services from Morrison Living, was instrumental in getting this project off the ground.
"The concept for The Market was there since Wesley at Tehaleh opened its doors," said Betty. "I see it as part of our ongoing commitment to creating spaces tailored to residents' needs and desires."
The Food Committee consists of residents and Morrison culinary managers. They give feedback on dining experiences and food offered at events. The committee also helped in the planning of The Market.
"We love the bistro, but it's only open on the weekdays. This new market now provides some bistro items for purchase during the weekend," said Marsha Tollifson, Food Committee Chair.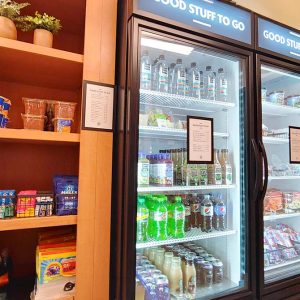 While the bistro is renowned for its offerings, The Market's extended hours include weekends. It's perfect for on-the-go items like salads, sandwiches, drinks, and more.
Betty explained that she'd like to open a market at more Wesley communities as this new market gains traction.
"As the first of its kind, we understand there may be a few adjustments needed, and we're actively working to fine-tune the shopping experience to make it as seamless as possible," said Betty.
The ease of use and general satisfaction is integral to The Market's success. So the campus is training both residents and staff on how to use the checkout system.
The introduction of The Market at Wesley at Tehaleh reflects Wesley's dedication to redefining senior living by offering modern amenities that enrich the lives of both current and future residents.
If you're considering a move to Wesley at Tehaleh, contact us to schedule a tour. You'll see this exciting new addition as well as all the other amenities we have to offer.
Learn More About Wesley at Tehaleh
"*" indicates required fields