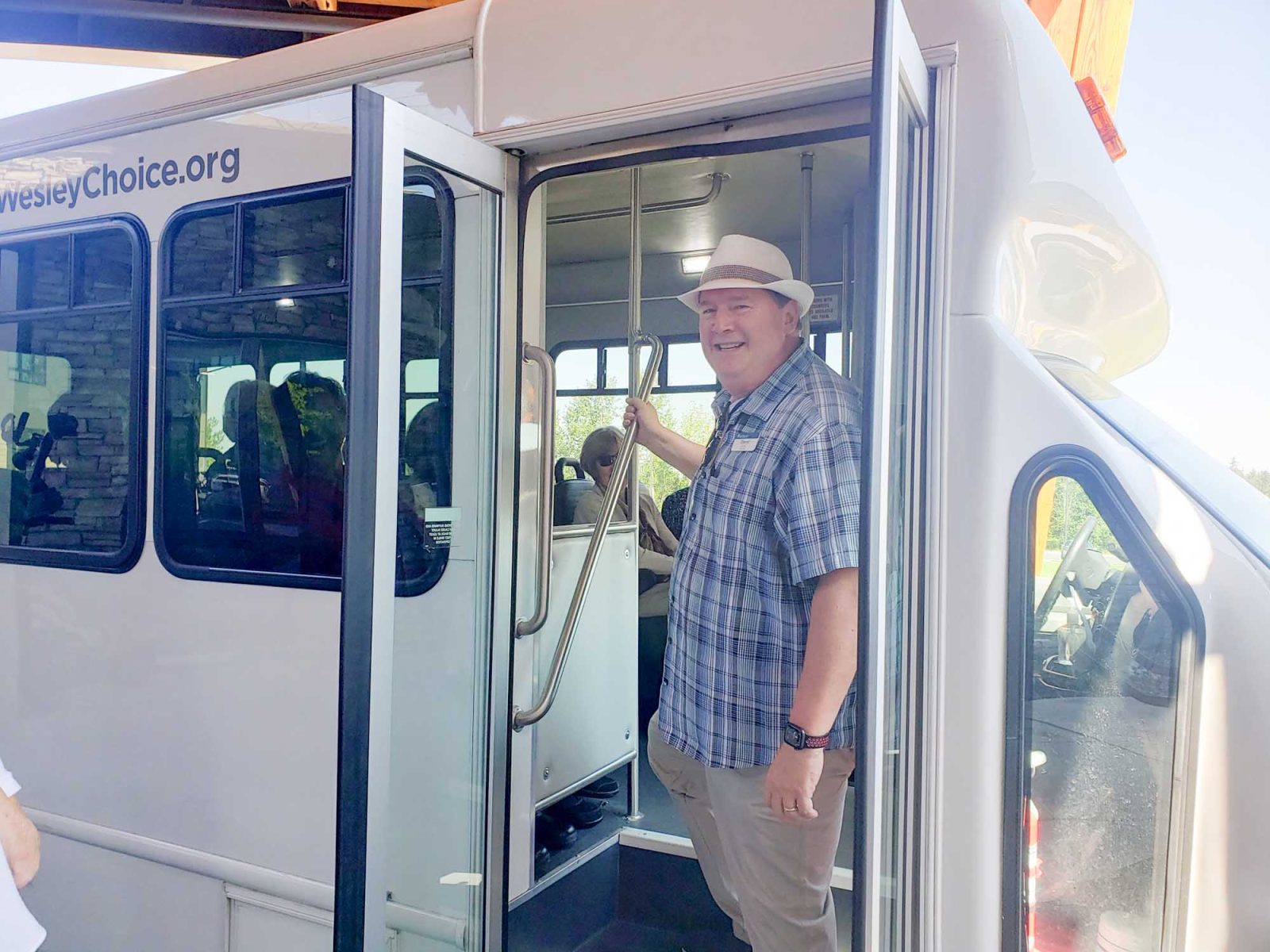 Darryl Bickel has lived in the Puget Sound region all his life. He grew up in Puyallup and attended college in Tacoma. Not to suggest he isn't world-traveled. The popular Wesley at Tehaleh shuttle driver regularly travels internationally with his husband, Lawrence. Recently retired, Darryl worked as a paper salesman for 40 years before joining the Wesley community this past spring.
"The paper business may sound ho-hum," he says. "But every day was different selling paper to printers throughout our region. Making discoveries is also one of the many elements I enjoy about driving the Wesley shuttle."
Darryl believes his position as a shuttle driver was predestined. He lives so close to Wesley at Tehaleh that he walks to work. He told friends he planned to drive the shuttle once the Tehaleh campus was opened. His friends were skeptical. But when Darryl looked at the Wesley job postings, he found a listing for a shuttle driver. He applied immediately.
"I know it's a cliché, but the residents really make this a fantastic job," Darryl says. "Each passenger teaches me something new. For example, I just learned a resident I drive every day had a commercial pilot license throughout his career as a truck driver. I am privileged to learn about so many fascinating lives."
Driving the shuttle for Wesley requires much more than ferrying residents from Point A to Point B. Darryl credits his supervisor, Erica Hack, with giving him the responsibility to make timely decisions when on his routes.
"The last thing I want to happen is for one of my passengers to spend several hours on the shuttle with me because of traffic or some other delay," Darryl states. "I'll sometimes make the decision to return someone to their home first, so they go back to having fun with their day before continuing my routes."
Driving the Wesley shuttle weekly also provides the opportunity to share new experiences with the residents, like traveling to Saltwater State Park to learn about the sea life in Puget Sound.
"We met with a scuba diver who shared videos of the amazing animals that inhabit our area," he recalls. "I always thought you had to visit the tropics to see this kind of diversity. Learning we have so many species, like the giant Pacific octopus, that only exists in our region was impressive."
Exploring places near and far is how Darryl plans to spend his retirement. He's steadily becoming a wine expert after visits to France's Bordeaux region, South Africa, and Rioja in Spain, among domestic visits including Napa Valley, and of course, throughout Washington State.
"We find the wine industry to be very friendly and willing to teach us how they make wine," he says. "Lawrence and I often join a tour to explore these wine regions, though we recently visited Tuscany on our own to celebrate our 25th anniversary."
The couple also spent many years vacationing in their former cabin on Harstine Island in Mason County.
As a world traveler, Darryl chuckles when asked if he's ever gotten lost driving the 12-passenger Wesley shuttle.
"It is hard to get lost these days, but yes, there was one time when a building's address was on the street behind the actual medical office and the entrance was on the other side. We went around and around until I realized the building's driveway was on a different street. This resident and I laugh about whether we'll find the office whenever we go there. I think the residents appreciate that I'm not afraid to make fun of myself."
Darryl says he shares lots of laughs with residents, offering the residents' kindness never ceases to impress him.
"We traveled to Sunrise Visitor Center at Mt. Rainier National Park. Every passenger thanked me personally for driving, often placing a hand on my shoulder as they did so. It is, frankly, very moving."
Darryl's gratitude includes Wesley employees, who he says never waver from prioritizing the residents' welfare.
"The employees here were immediately inclusive and respectful, even though my background was neither in medicine nor senior care," he says. "The universal compassion they share for the residents is wonderful to see. The whole thing for me here has been really cool."