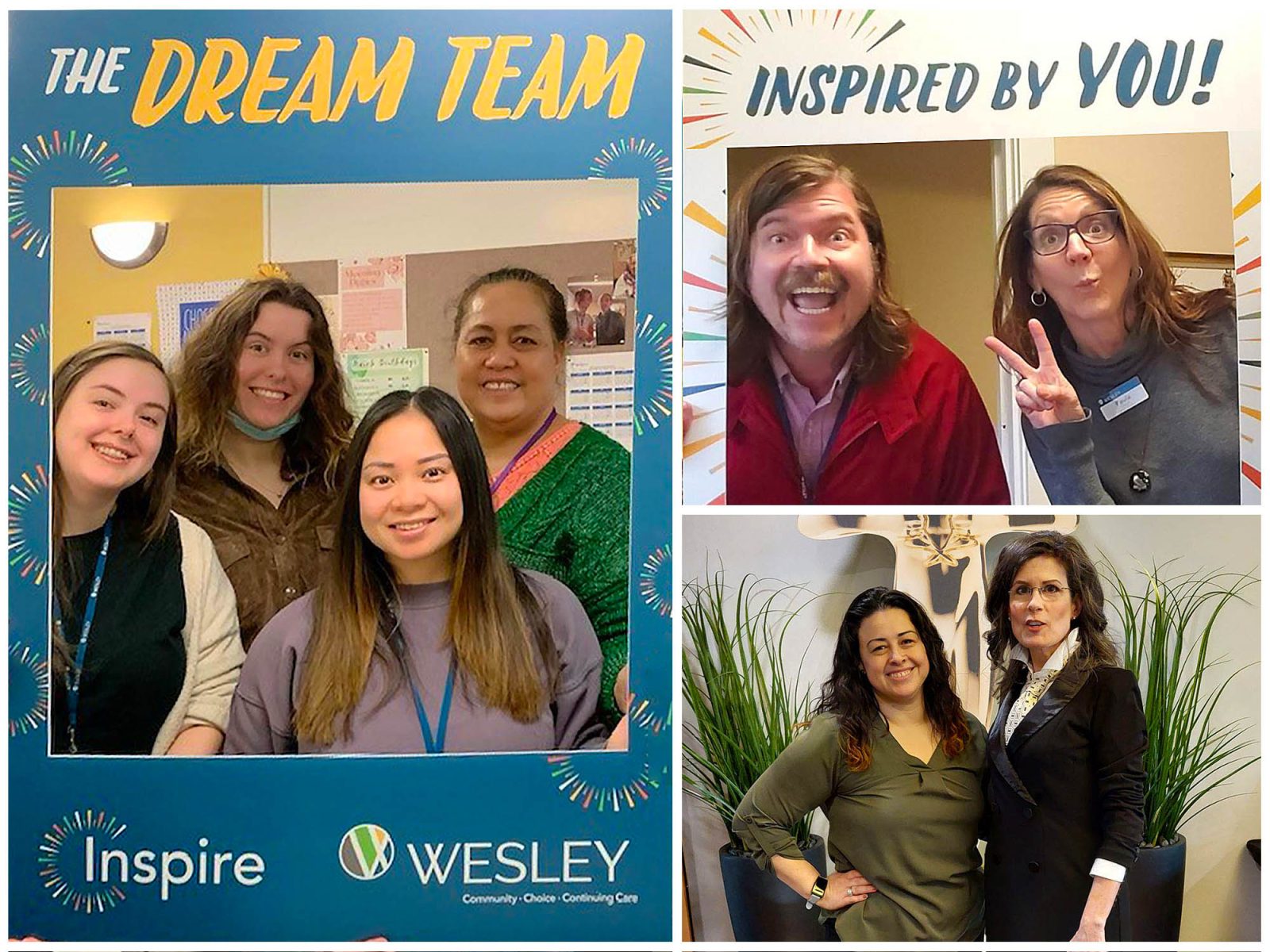 In 2022, Wesley unveiled Inspire, a social platform where Wesley employees can go to recognize, celebrate and achieve! It is a best-in-class recognition and reward program built on the science of belonging. Achievers, the company behind Inspire, defines belonging as "an experience of connection, security, and community — it's about feeling at home in one's place, without reservation." In short, Inspire is about creating a sense of belonging for Wesley staff.
Within Inspire, employees can recognize each other or sign e-cards for special moments like a new team member, a birthday, or a work anniversary. Additionally, they can nominate coworkers for the monthly Lean Champion and Resident Champion awards. Points earned by employees for service milestones or through manager-led activity such as point-based recognitions or "boosts" can be redeemed in the reward catalog for merchandise, event tickets, gift cards, experiences, and more.
How Inspire Was Created
In February 2022, employees across Wesley participated in the Wesley Engagement Survey (the WES). One finding from this survey was that only 54% of employees felt they received recognition for a job well done. In response to this finding, Wesley researched and adopted a company-wide recognition and reward platform.
Once the platform was selected, employees then submitted and voted on names for the program. Popular names included Champions, Shine, Ovation, and Confetti. The winning name, Inspire, was submitted by Lisa Ivie of Wesley Lea Hill. How did Inspire come to be? Through the voice of our employees!
However, Inspire is much more than a recognition and reward program. In fact, we launched Inspire with several goals that were important to the mission. These goals included:
Create 'One' Culture as we grow
Engage and Motivate Employees
Drive Performance and New Behaviors
Retain Top Talent and Reduce Turnover
Standardize and Reduce Administrative Reward Processes
We launched Inspire in July of 2022, right in the middle of the Great Resignation. Talk about good timing! Following two years of COVID aftermath, we all needed to focus on something more positive. Inspire delivered right out of the gate.
Data Shows Positive Results
Achievers provides data monthly on several program health meters including account activation, monthly usage, volume of recognitions sent and received, and more. Overall, Wesley is exceeding the Achievers Benchmark Index affirming a strong adoption of Inspire by our workforce and highlighting the value they see in it.
One data point to highlight the strength of the program as we closed out the past year was the 'recognition received index' which measures the number of recognitions received per employee. The Recognition Received Index measured 3x the Achievers Benchmark Index. More recent data points from our annual WES validate how Inspire continues to deliver for Wesley. These include a 19-point increase in the overall Engagement Index, a 20-point increase in regular recognition, and 83% of employees affirming a sense of belonging at Wesley.
Inspire allows the good work done anywhere to be known everywhere!