Wesley Lea Hill is a special place, now celebrating its 15th anniversary — growing from humble ranching roots to the warm, well-loved community it is today where residents stroll the community's trails among evergreens.
It all started when Wesley President / CEO Kevin Anderson was looking to expand Wesley. He was introduced to the Eby family of Auburn by board member Rev. Bill Andrews. The retired Methodist minister once served as the pastor to Norma and John Eby. Well-known in the community, John Eby was a long time cattle rancher on Lea Hill and raced horses at Long Acres while wife Norma was deeply involved in the church. When John passed away and Norma fell ill, the Eby children were presented with offers from home builders to develop the family's land. They declined these offers and worked with Kevin to create a family legacy through the partial sale/partial donation of their beloved family property to Wesley. The seed for Lea Hill was planted, and in 2003, Wesley began working with prominent city officials who supported the project.
Construction began in 2005 with Village Homes and Brownstones opening in the fall of 2006. Shortly thereafter, Eby Lodge was completed, opening in 2007. In 2016, the campus expanded to include a state-of-the art rehabilitation and care center funded by Wesley Community Foundation, residents, their families and the community at large. Throughout Wesley Lea Hill, there are countless tributes to the Eby family — from the Lodge's namesake and Norma's Place Deli to John's Club, featuring his memorabilia and framed photos of his horses.
During development, Wesley invited the founding residents to the old Eby house every Friday morning for breakfast so neighbors could get to know one another before moving in. The first residents loved these gatherings so much, they made a pact to continue meeting every Friday once Eby Lodge was completed.
Two of these founding members are Betty and Will Gering. Originally from Issaquah, the Gerings were looking to downsize and be closer to their son in Auburn when they heard about Wesley.
"It was nothing but bare land, a little cattle ranch, when we first saw it," recalled Betty. "We liked the wooded area, the proximity to the small downtown for shopping and being close to family. We signed up that day and watched the whole thing come together. We moved into one of the Village Homes the day after it was finished."
The Gerings spent seven years in their Village Home before moving to the Lodge in 2013, where they now have a ground floor corner apartment with a garden outside their door. The couple has celebrated their 60th, 65th and 70th wedding anniversaries in the Lodge's Fireside Room.
"It's been wonderful since the very beginning, the residents here are so friendly — almost like an extended family," beamed Betty.
"When new neighbors moved in," Betty continued, "we'd BBQ out on our front lawns and visit with everyone. I sang in the choir and started making greeting cards in the craft room. Will got involved in helping to build the active woodshop here where he makes toys, jewelry boxes — anything made of wood you can think of."
Another long-time Lea Hill resident, Helena Hanna, moved into the Lodge with her husband in 2007 the day after it opened.
"The first thing that drew us here was the history and reputation of Wesley," she reflected. "We liked that it was out of the city traffic with clean fresh air, and we also have kids in Enumclaw and Issaquah, so the location was perfect — right in between."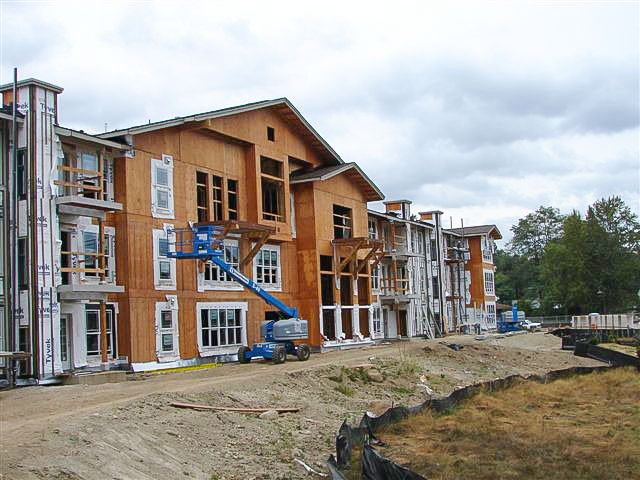 The Hannas came often to watch the construction.
"The thing we could not know was the spirit of the place, but after just a few months, we knew we had chosen well," said Helena. "This is a very neighborly, friendly place. I've seen the campus evolve, the maple trees grow and the programs flourish."
Helena has been part of the choir and enjoys going to movies and fellowship. Her week consists of three exercise classes with tai chi and yoga being her favorite. On the other days, she walks and participates in programs like Wesley U.
"This Friday we start our ice cream parties," she said. "I have been an ambassador leading tours on weekends, and visitors see the friendliness of this place. It's exactly what I've needed."
Today, Wesley Lea Hill is a well-established community featuring Eby Lodge, Village Homes, two Brownstone apartment buildings, miles of paved trails with wetlands (residents are often treated to frogs singing and deer grazing), great educational programs, a fitness center, a pool and health programs that benefit mind, body and spirit. Lea Hill also offers Wesley's full continuum of care including Catered Living services, memory care and a rehabilitation and care center.
"We have nice, deep roots in the ground here," explained Wesley Foundation Executive Director Susan McConnell. "But at the end of the day, it's not the buildings or amenities that matter most; it's the people here that make Wesley Lea Hill what it is."