Being a socially active senior can benefit your mental and physical health.
When Geri Killip moved to Wesley Lea Hill after living in Maple Valley for 46 years, she was delighted to discover members of her church lived there, too. Terri Huber, however, knew no one when she relocated from Oregon to Wesley Bradley Park. What both women shared was a desire to avoid feeling alone. Just by stepping out of their apartments at their Wesley communities, they were able to join activities and take advantage of meals where they met their new neighbors.
"It was so funny that I kept running into people I knew," says Geri, "but I was also determined to make new friends."
Social isolation among seniors has grown into an epidemic of its own, especially during the past three years when so many social activities were canceled. The National Institute of Health has declared social isolation and loneliness to be a health risk on par with smoking and obesity.
"Social isolation, loneliness and social vulnerability are common problems in older adults and have important health consequences," writes Amy Freedman, MD, a family physician at St. Michael's Hospital and Baycrest in Toronto, Canada.
Nani Poulivaati-Mounga, Director of Resident Engagement at Wesley Des Moines, says to avoid feelings of isolation, residents are having to relearn being in group situations with each other.
"What I find is that when we have to get residents back into regular programs, we have to remind them that it is not a scary thing to get out of their rooms and get on the bus and go," says Nani.
Getting up and going is never a challenge for Geri. She remains active in her Christian Women of Action and TOPS (Take Off Pounds Sensibly) groups. Gerri encourages everyone to try new things, pointing out that you can always stop attending an activity if you don't enjoy it.
"There are so many ways to meet people here," Geri says. "Especially with so many activities. For example, when a 'Tea with Mark,' our community director, came up, the first page of sign-ups filled immediately. Meals, especially dinner, are also always nice for socializing."
Terri agrees that meals provide an excellent opportunity to meet new people. "When you go to the dining room for dinner, you get the opportunity to sit with people, chat and make connections. We often stay afterwards until they start cleaning up and is a very nice place to learn about each other."
Terri says everybody experiences loneliness, but you shouldn't let it overwhelm you. "It's so important to recognize it and then acknowledge it but not let it control you," she says. "Most of us have come from a place where we've lived for a long time. There's bound to be some mourning time over the loss and change, but accept that as a normal emotion."
Terri is familiar with making new friends. She and her husband lived across America and the world when he was a physician with the military, at one point visiting 11 countries as NATO representatives. She likens arriving at Wesley three years ago to the feeling she experienced on her first day at Oregon State University when she didn't know anyone.
"It's very similar. Your kids bring you up here and everybody goes and you are left at the dorm, or in this case an apartment. Like in college, it is very important to ask questions. Everybody is so friendly at Wesley; they will answer your questions and also ask something about you."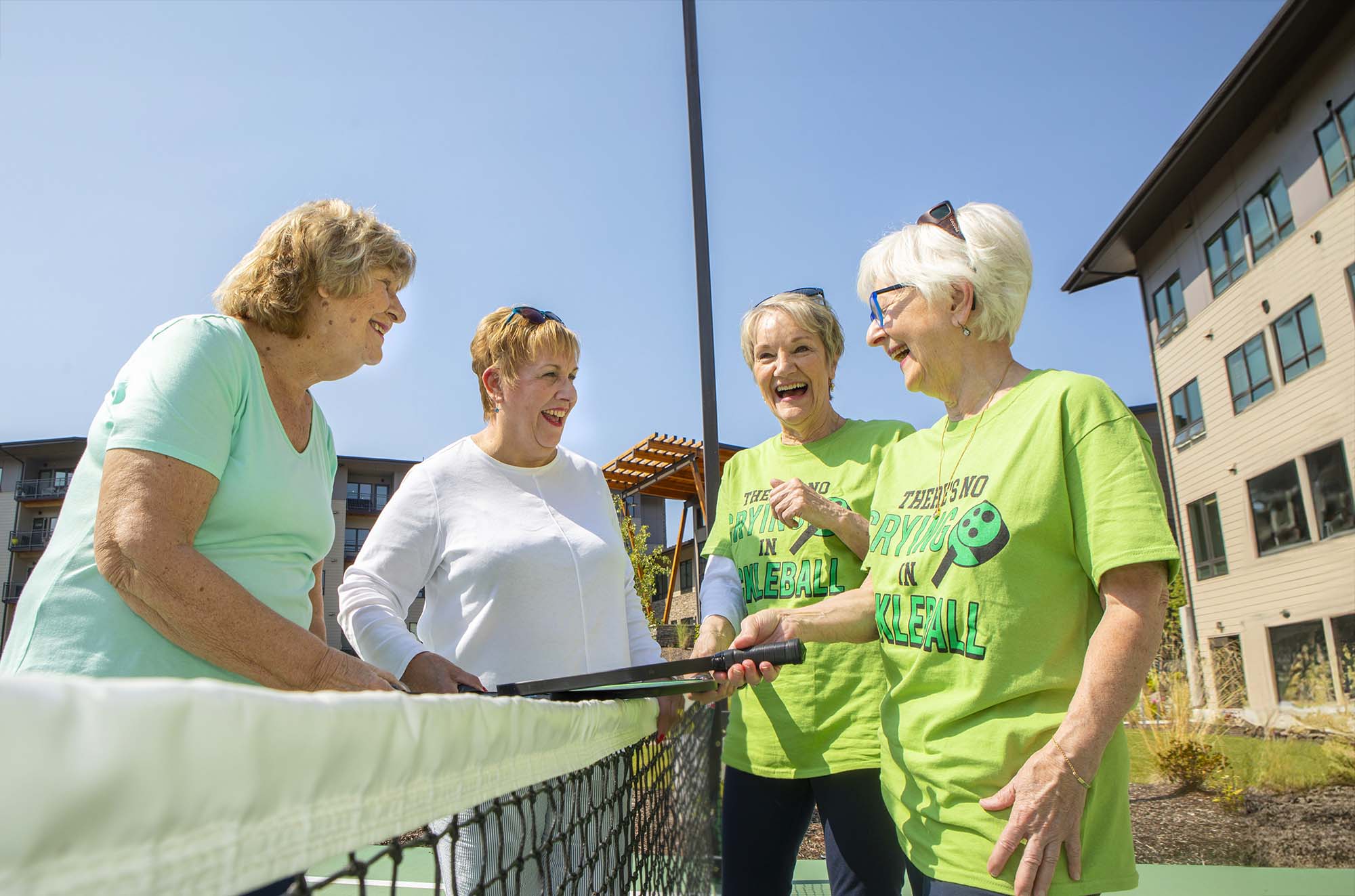 "There's never a reason to be afraid to try something new and meet someone new here," adds Nani, who along with her team, has developed a broad schedule of immersive activities. "We're all aging, and we all should certainly be in a place where we are willing to put ourselves out there, meet people and try something new. I recently had someone who is 92 years old try yoga for the first time. And he's become hooked!"
"We have a very welcoming community," says Geri, "We have greeters who meet new residents, and we always try to reach out to other residents to invite them to join us for a meal."
Nani adds living at Wesley is like living in any community, a place where you want to get to know your neighbors. You can try an instructor- or resident-led class like salsa dancing or wood working for the first time and become involved in the community.
Terri, who managed a used-bookstore in Lake Oswego, also encourages residents to read the ever-changing activity schedule carefully and thoroughly. "People here really try to be welcoming, whether it's a neighbor on your floor or in a class," she says.
Gerri, Terri and Nani all agree that the combination of a friendly environment and loads of social opportunities make Wesley an inviting place for an active senior, whether they are independent, in assisted living or memory care, use Catered Living services or reside in a skilled nursing setting. With research demonstrating the negative effects of remaining alone, all Wesley residents are encouraged to step outside these days and meet new friends.