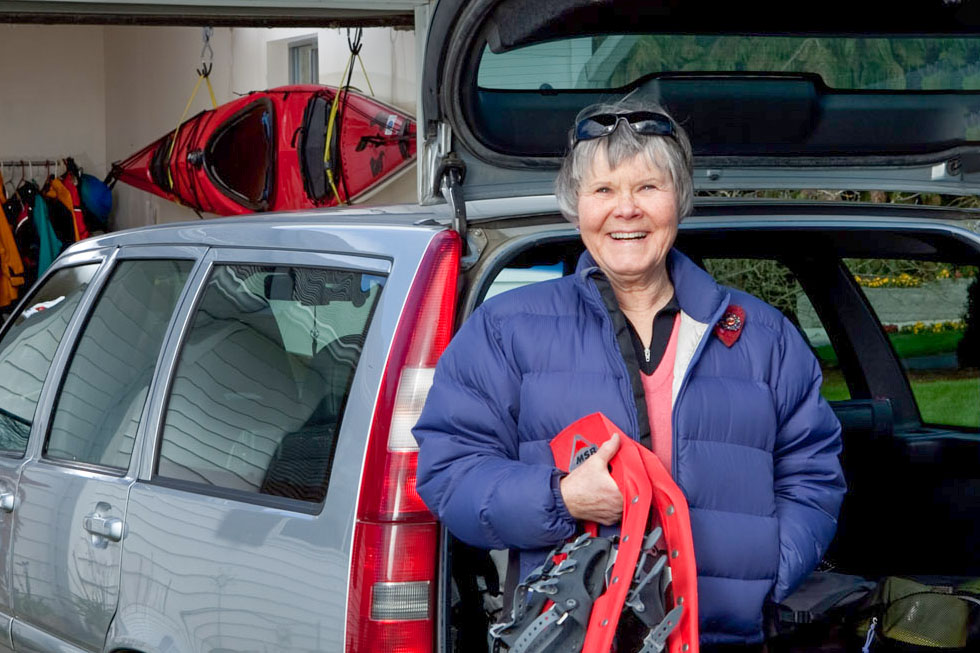 A Wesley resident shares a glimpse of her day-to-day life living in a 65+ community.
Judy Moyer has lived in her Wesley Des Moines Cottage for nearly nine years. As a single woman with a family history of Alzheimer's disease and her sister living out of state, she found peace of mind in a place where she is secure and has health care available to her if she needs it. Having once co-owned a canoe and kayak store, staying active is essential to her lifestyle. The Des Moines campus enables her to maintain that lifestyle with it being so close to the water. Judy shares a typical day for her at Wesley.
"If a person wants to sit and watch TV, they can, but I encourage everyone to participate in many of the activities Wesley offers," said Judy.
9:00 a.m. "I participate in the 'I'm Okay Program'." 
Judy calls into the program every morning to alert the staff she is doing well. If the team doesn't hear from her, they send someone to her Cottage to check on her.
"As a single woman, this is comforting to me," explained Judy.
9:30 a.m. Exercise Class.
"The exercise program is fantastic. I participate in a minimum of three morning or afternoon classes a week," said Judy.
11:00 a.m. Physical Fun
Wesley offers a wide variety of daily activities that inspire holistic wellness and quality living for aging well. Residents can stroll the gardens, ride bikes through the neighborhoods, join in a pickle ball match or participate in a staff-supervised fitness class.
1:00 p.m. Run errands or enjoy a walk to Des Moines Park
Each Wesley community has beautifully landscaped grounds, abundant walking trails, proximity to hiking and local access to shopping and conveniences.
2:00 p.m. Gather with residents to learn Chicken Foot.
"It's important to me to be stimulated physically and mentally. I like to learn new things, whether it's a new game like Chicken Foot or taking a watercolor class," said Judy.
Wesley campuses are dedicated to providing life-enriching daily and weekly activities to help people stay engaged and fulfill their desire to stay active. From mind-stimulating classes, woodworking, book clubs to their love of music, the team is determined to get as many residents as possible out of their homes and actively engaging in meaningful ways.
6:30 p.m. It's movie night at the campus. Time to grab some popcorn. 
"The resident engagement teams keep us busy. I see my neighbors often for regularly scheduled gatherings like happy hour and movie nights. Periodically there are organized outside activities. This month, for instance, they're planning a barbecue pending health guidelines," said Judy.
Wesley encourages holistic wellness and quality living for aging well. Each campus promotes a variety of ways neighbors can safely gather. With endless outdoor activities, a variety of dining options, personalized care services and organized social events, residents of Wesley have everything they need in one convenient location.
"Communities like ours are not where people go to just let life pass them by. Instead there is always something interesting going on and plenty of new worthwhile experiences. My recommendation to others is to not wait. Take a look at your retirement options and move to Wesley. It's the best decision I've made," shared Judy.