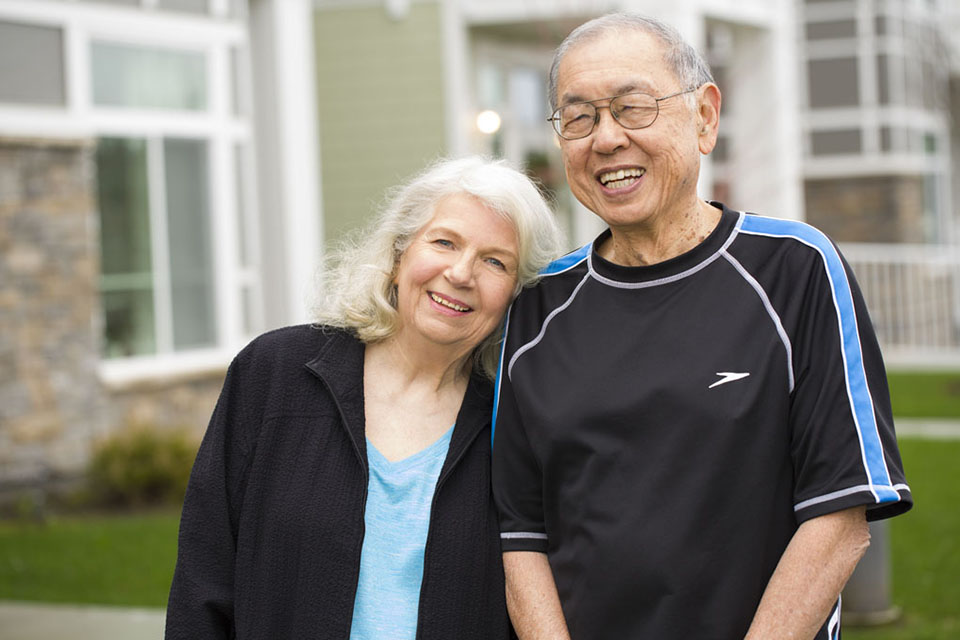 Wesley residents debunk the myths of living in a retirement community.
As we age, there are many considerations. From financial concerns, lifestyle factors to where you will live. Hear from two Wesley residents, Viki Long and Linda Hagen, about why they choose to make the move and debunk the myths about moving into a retirement community.
I'm too young to move into the "old folk's home".
"My mom always said, people wait too long, and they can't always be where they want to be. I kept that in mind. I'm young enough to enjoy all that Wesley has to offer. As you age, it's the socialization that keeps you young and vital," said Viki.
The homes are small.
"I was happy my apartment at 1,300 square feet holds my six-piece sofa and hutch. The storage is incredible. The kitchen holds more than my other kitchen did. I have my own laundry with more cabinets and a sink. I have my own garage, a large deck with a water view, it's new and spacious. It is very quiet inside and is just ideal," describes Linda.
I don't want to leave my family and friends.
"My kids love visiting me here. My granddaughter stayed for a week, and we checked out the area and coffee shops. I have a list of friends who want to come to visit. I've even booked the guest suite on campus for them to stay this summer," said Linda.
I don't want to feel isolated.
"What's appealing to me is there are a lot of activities. You're not just sitting around. I signed up for philosophy and nature lectures with Wesley U. I'm going to start exercise classes, and on Friday afternoons, I gather with neighbors for happy hour. The neighbors are wonderful and very friendly. There's a lot to do," explains Linda.
You must pay an entry deposit and monthly fees.
"I think about all the money I'm saving on what I'm not paying for, like property taxes. Everything is included here. If I need anything from maintenance on my apartment to technical services, they're just a call away to solve my problems. If I have a health crisis, everything I need is here. I never have to move again," explains Linda.
"It's so easy to live here. Everything is organized and well thought out for accessibility for what people want and need. I don't worry or stress about maintenance, picking up the yard, cleaning gutters, or pipes freezing. It's just easy. They hang pictures if you need them too," adds Viki.
Housing market experts also agree that now is a great time to sell your home. Watch our recorded webinar about the 2021 housing market.
---
Wesley offers a wide variety of residences to fit your lifestyle including independent homes and apartments, assisted living and skilled nursing. Our signature Catered Living program offers flexible, personalized care coordination with medical providers, medication management, diabetic support, and general personal care. Most Wesley campuses also provide a secure assisted living memory care program.
Discover the campus that's right for you. Discover the community that's right for you. And, be sure to check out our newest community in Bonney Lake, Wesley at Tehaleh!
Discover floorplans, pricing and amenities by visiting Wesleychoice.org or contact us for more information on any of the Wesley communities listed here.