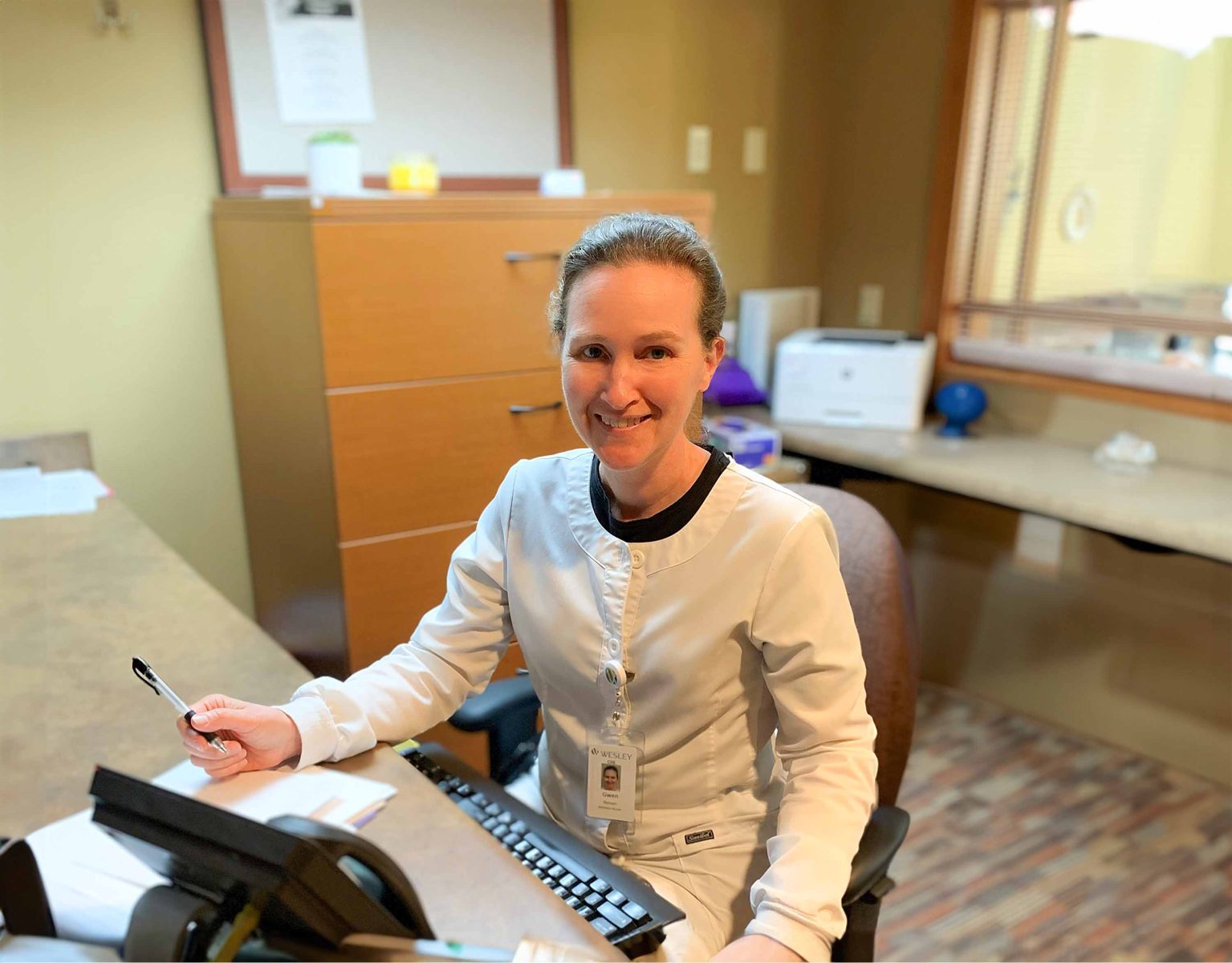 Wesley's Catered Living allows you to live an unburdened lifestyle as you age in place.
As we age, things like housework and meal preparation can become more difficult as our health needs change. Living with these challenges can affect our day-to-day lives and our outlook. Most of us would rather use our time to visit with friends, attend cultural events, go for walks or read a good book.
What is Catered Living?
Catered Living services, available in The Commons apartments at most Wesley communities, takes care of these daily tasks so that people can focus on what matters most: living a full and independent life.
"Catered Living is a great option for people who need assistance with any activities of daily life, medication assistance, or even light housekeeping and pet care," says Gwen Nelson, Wellness Nurse at Wesley Lea Hill. "It's similar to assisted living, only better."
In The Commons, home care aides are available 24 hours a day with nurse oversight Monday through Friday 8:30 a.m. to 5:00 p.m.
A Wesley care coordinator works with each resident and the family to design a customized program. These "packages" are flexible and can be modified as the resident's needs change.
Flexible and Reliable Care
Residences in The Commons have a monthly service fee that includes the apartment, all-day dining, and housekeeping. The Catered Living program provides supportive services. These may include care coordination with medical providers, bathing, personal care, diabetes management, mobility assistance, and safety checks.
Customization of services is key to the Catered Living program. Residents may increase or decrease support as needed to maintain their independent lifestyle–a lifestyle with access to a full calendar of social and recreational activities.
"Families are especially grateful for the Catered Living program," Gwen says. "One family recently mentioned to me that their parent was glad they could just ask staff when they had a question or a need, and we would take care of it. There are many staff keeping a watchful eye on our residents, which is comforting for their families to know."
As the wellness nurse, Gwen provides oversight for everyone living in The Commons at Wesley Lea Hill. She meets with new residents when they move in, reviews their plan of care with Home Care by Wesley, and checks in regularly. She also manages medications.
"Medication management includes weekly med set up, refill requests, communication with the pharmacy, doctor or family as needed and assessments initially and every six months ongoing," says Gwen.
Our Care Teams Focus on Building Trust
Gwen has worked at Wesley for over five years. She's an important part of the Catered Living program at Lea Hill.
"I am available as a resource for the caregivers when they have questions and for training as needed. I work closely with Home Care by Wesley to ensure care is provided. I attend care conferences, review care plans and communicate frequently with the caregivers and home care manager here on campus."
Gwen says her relationships with residents make Wesley Lea Hill a very enjoyable place to work. The former Tacoma School District nurse notes her colleagues at Wesley make a great team with a common goal of assisting community members.
"The home care aides really make the difference in each resident's day," she says. "The campus is also beautiful."
Gwen's typical day starts with reviewing her messages and check-ins with the Home Care by Wesley team. They inform her if a resident may require her attention. She then fills and delivers medications; conducts a weekly blood pressure clinic; and meets with residents, family members, or staff with questions or concerns.
"Wellness nurses not only serve Catered Living but also all of independent living on each campus," she says. "In addition to managing medications, we help with health-related questions, find resources as needed, and facilitate visits from outside services that come to Wesley, like the podiatrist and dermatologist."
The Catered Living program is available on all Wesley campuses except Des Moines. That campus will launch Catered Living in March 2024.
Residents of The Commons apartments live independently and with confidence because Gwen Nelson and her many colleagues are available 24/7 to assist them. 
Learn More about Catered Living
"*" indicates required fields