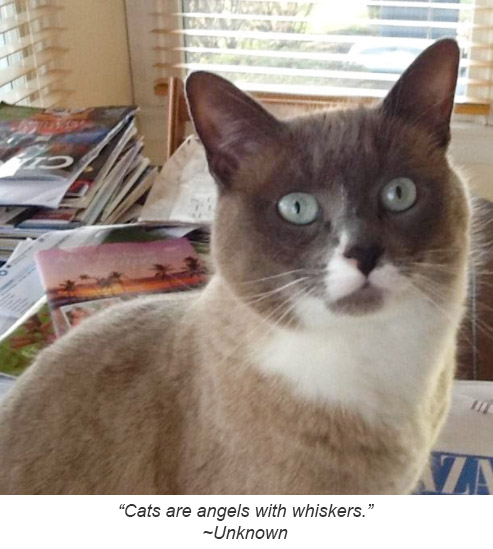 By Wesley Community Foundation
One of the joys of senior living is welcoming newcomers to Wesley communities.  It is especially exciting when a new building opens, such as The Gardens at Wesley Des Moines.  During the hustle and bustle of new residents moving in with their furnishings and belongings, it's not unusual to see them arrive with four-footed companions—mostly dogs and cats—in tow.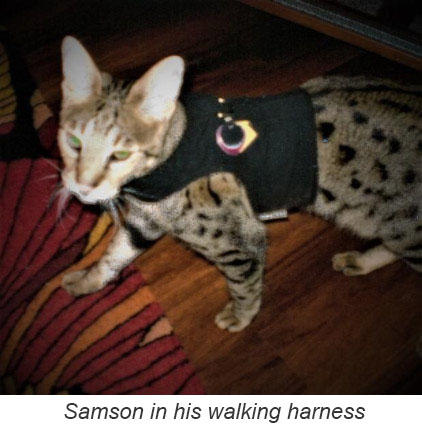 The dogs soon learn that Wesley receptionists keep a stash of tempting treats on hand.  While the cats are less visible, a long-time feline "resident" named Samson is a notable exception.  He can be seen walking his "human" all over the campus and is well-known for his size, jumping ability and hunting prowess.  Part domestic cat and part African serval, Samson is unique in temperament and coloring.  I have heard small dog owners say their pets instinctively give Samson a wide berth when they see each other on daily walks. 
When Holly Rice decided to make Wesley Des Moines her home, she and her cat, Zoey, moved cross-country from Rhode Island to live in The Gardens. Upon completion of the new building, they moved into a third floor apartment which they love.  When Zoey recently disappeared, Holly was heartbroken and determined to find her.  With assistance from the reception staff who posted photos and lost pet notices, and from numerous trips searching for Zoey, Holly experienced an "angel" moment in the form of another feline.  She saw Samson staring intently at the fenced, large dirt pile outside his apartment.  Following his gaze Holly noticed her sweet Zoey staring back at Samson.  
Overjoyed she called to Zoey, who eagerly followed her voice until they came to a place in the fence where Zoey could exit.  Their happy reunion has resulted in a much less curious Zoey, who leaped from their third story balcony and reportedly landed with a loud thud below.  Stunned but unhurt, Zoey entered the fenced-off dirt pile outside Samson's apartment. 
What does this have to do with Tree of Lights and Wesley Community Foundation?  Through philanthropy, the Foundation plays an important role in helping to make new and renovated communities more affordable to a wider range of people.  Not only does the Foundation help Wesley receive better financing terms, it also maintains benevolence funds (Circle of Concern) for each campus to assist qualifying residents who have outlived their resources through no fault of their own.  The Foundation encourages and enhances Wesley's commitment to building a culture of caring among all our Wesley communities.
Often during Tree of Lights, supporters choose to designate their gifts to the Circle of Concern.  Our 2020 Tree of Lights letter focused on the story of a family who was grateful for the wonderful care their family member received at Wesley Lea Hill.  Wonderful care isn't just for those in memory care or skilled nursing.  Ask Holly and she will tell you how great our caring staff are to everybody—even to our four-footed residents—who are important companions and "family members" for so many residents.
Share your love. Make a difference for those Wesley serves.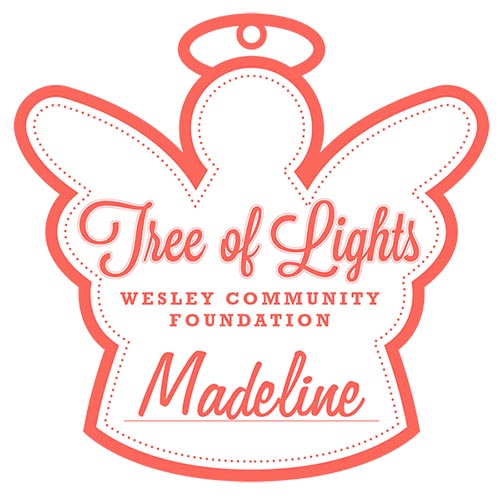 We hope you will reflect on the angels you know among us. Let's not forget that for many folks their pets are angels with fur, tails, whiskers, or even keen enough eyesight to stare intently at each other as dusk falls, so that the one who has been lost can be found.
There are numerous wonderful holiday stories that feature felines on their pages, but real-life "angel" stories are the most meaningful. Just ask Holly.
To keep the culture of caring vibrant at Wesley, we hope you will support Tree of Lights by making a donation by December 31.  All gifts are gratefully appreciated and will increase the joy of the season for both the giver and the receiver.
Blessings to you from Zoey and Samson!