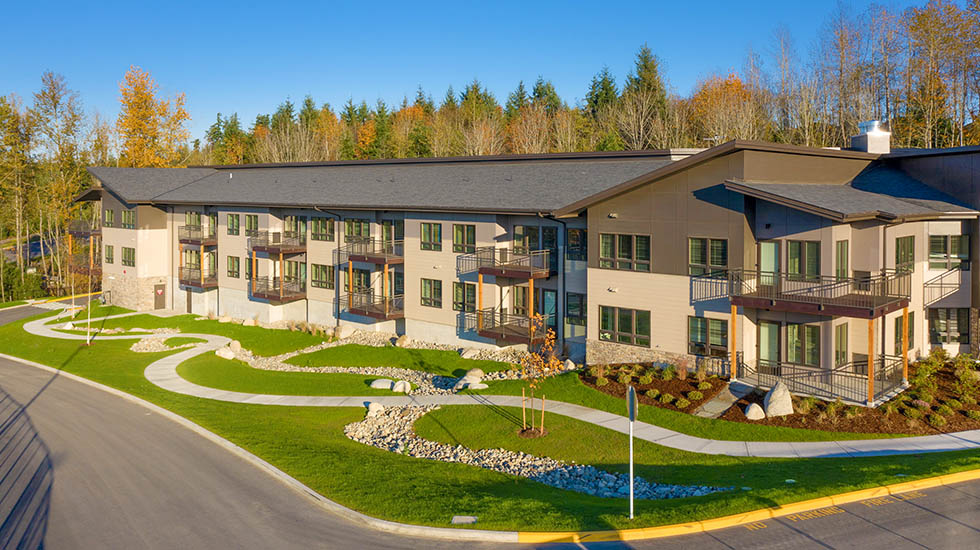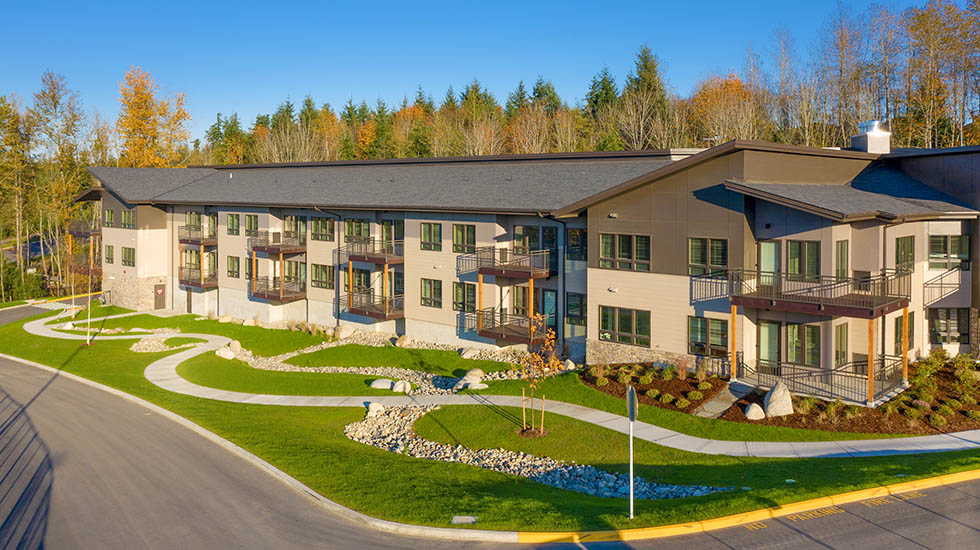 Wesley at Tehaleh is now open! Discover why nature enthusiasts say this is the place to live.
Nature enthusiasts will be excited to hear the Wesley at Tehaleh campus is now open.
From tranquil ponds with birdwatching opportunities, open space for picnics to gathering spaces designed to challenge your body and mind, Wesley at Tehaleh is intended for residents to connect to the outdoors. 
"In Tehaleh, you're surrounded by nature, from watching the sunrise over the mountain and exploring the surrounding parks to discovering the easy walking trails. If you like being outdoors, Tehaleh is the place to be," said Community Relations Director Lisa Osterloh. 
Private tours of the Brownstone are available by appointment and guests can view several different apartment types and sizes showcasing the various floor plans and color schemes, including cabinets, fixtures and finishes. 
"We chose the Brownstone because we could choose the apartment that was right for us and didn't have to wait. It's the perfect place to start our next phase of retirement," explains Wesley at Tehaleh resident Lois. 
Surrounded by panoramic views of the forest, the Brownstone's independent apartments include walk-in closets, personal patios or balconies, full kitchens with stainless steel appliances and in-home washers and dryers. As your care needs change, Wesley at Tehaleh can assist at each step of the aging process, including our signature Catered Living program and our secure assisted living memory care neighborhood. 
Lisa is looking forward to the opening of The Lodge, slated to be complete in May of 2021with  a non-denominational chapel, library, beauty salon, club room, woodworking shop, flexible dining options and enriching life-long learning classes in the educational theater.  For those with a green thumb, the resident gardens are ready to reserve for planting.
"The beautiful setting, away from the noise of the city life just spoke to us. You're close to shopping on 410, but you have gorgeous trails right outside your doorstep. We discover a new trail almost every day," said Lois. "In our last home, even though we were on a greenbelt, we were always looking at a neighbor. Tehaleh has done a beautiful job of keeping natural growth between the neighborhoods. I like the feeling of openness and not feeling like you're on top of someone or surrounded by people." 
For Tehaleh Brownstone resident Fred, access to nature right outside his doorstep has been beneficial. "Hiking daily means I can maintain my health and get exercise every day. It gives me a chance to get out and do something I normally wouldn't do in my old home," says Fred.
Whether you choose The Lodge or Brownstone, leave the burdens of owning a home behind with maintenance-free living. Forgetting the headaches of roof repairs, plumbing problems, lawn care and house cleaning was a significant factor for Fred to make the move to the new campus. "The home maintenance on my 4,000 square foot home was extreme," recalls Fred. "I'm 79-years-old, so mowing six-and-a-half acres is strenuous. Not having maintenance on a home has made a big difference for my well-being."
Guests should make an appointment to tour the campus. "If you're tired of maintaining a large home and yard, we're open and have apartments available," encourages Lisa.
Should you run out of money, Wesley Community Foundation is there to help. Few other communities offer this level of care, compassion and peace of mind.
For more information or to make an appointment, please call (253) 466-2720 or fill out the form below.
Oops! We could not locate your form.