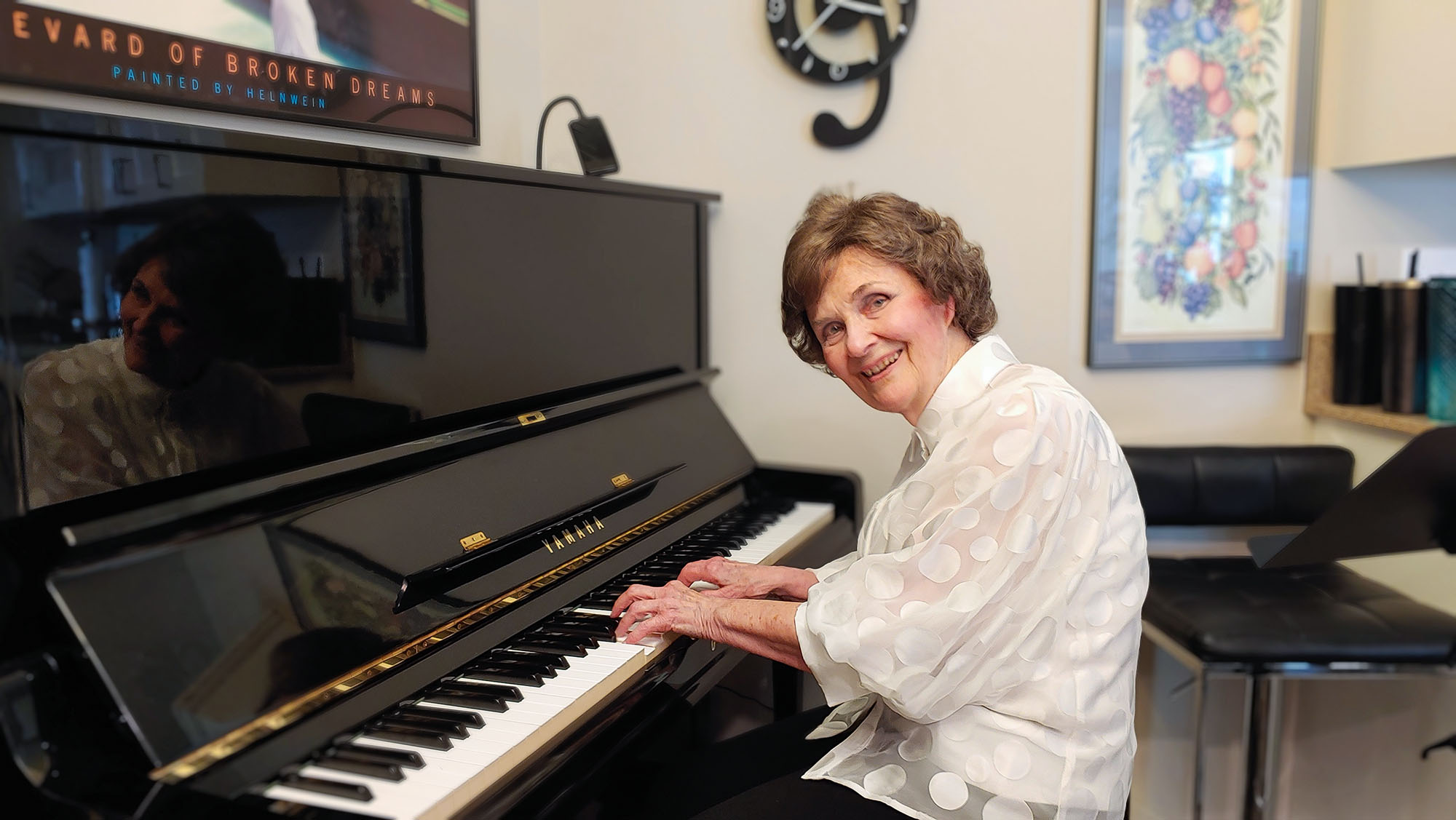 Every person's life has many different chapters. For Wesley Des Moines JoAnn Rovig, her far-ranging interests have led her down more paths than most. So far, she's been a massage therapist, inventor, nutritionist, florist, musician, and educator. And her legacy is still in the making.
JoAnn's neighbors know her as the resident with the open door. She and a friend host piano and organ performances from JoAnn's apartment every Saturday morning.
Life is all flowers and music
Gardening and music have always been a part of JoAnn's life.
"I grew up with music," said JoAnn.
Her grandfather W.W. Pickerill owned the first music store in Tacoma, and an uncle who lived with her family played piano.
"As a child, I asked my mother for lessons, but she said I had to wait until I was 10 years old, so I taught myself at six," she said.
It seems the pattern for JoAnn's life was already set by this young age. If she wanted to do something, she just went ahead and did it.
When she was a child, she developed an interest in gardening because her family had a large Victory garden. Her love of gardening bloomed after she got married and moved to Bellevue. She bought Sunset Village Nursery. Unfortunately in the mid 1950s, I-90 was routed right through her nursery. Without missing a beat, JoAnn took her SBA loan and built The Thicket, a garden store, flower and gift shop which she owned and ran for 15 years.
But music always remained a passion. After selling The Thicket to her partners, she taught organ lessons in Factoria. From there, JoAnn's hankering for discovery and personal development was just beginning.
She said, "I gave up organ lessons and told my mother I would try being a massage therapist."
Her mother, she said, was horrified. After all, at that time, massage therapy wasn't as widely practiced or understood as it is today.
JoAnn dove into massage classes. Just as she was practicing for her final exam, life took a turn. A lump was found and a metastatic breast cancer diagnosis followed. She underwent surgery to remove the lump and all her lymph nodes. As a result of her treatment, she would end up with a swollen arm and dysfunctional hand, due to lymphedema.
JoAnn's life has a new purpose
JoAnn explained, "I knew enough about lymphedema that I realized I would be in pain from that swollen arm and hand."
So JoAnn decided to take things into her own massage-ready hands. She went to Austria, Germany, and Australia to train in lymphedema massage therapy.
"At that time, there were only 13 therapists in the U.S. and none in the Northwest," she said, "I learned the value of human touch, and I wanted to share this knowledge with others."
In 1992 she opened MLD Associates, a lymphedema clinic in Ballard above Ballard Blossom. It was a serendipitous merging of two of her worlds. Her clinic trained other massage therapists and prepared them for advanced courses in lymphedema therapy.
JoAnn and her clinic's medical director helped establish the standards of care for lymphedema treatment in the U.S. This evolved into what is now known as LANA (Lymphedema Association of North America) certification that is required by most hospitals offering lymphedema care.
An inventor is born
JoAnn had an epiphany. An integral part of treating lymphedema is bandaging to stabilize the work done after therapy. The bandaging process was extremely challenging for patients. At times, they broke down into tears when she handed them their sack of bandages. She thought, "I knew I had to find a better answer."
That's when JoAnn became an inventor. She developed and patented a nighttime compression garment that patients could don themselves. Most importantly, it didn't require bandages.
Her foam-filled, made-to-measure garments were designed to contain the swelling and reroute the lymph fluid to an alternate pathway. To get her new invention to market, she started a company called JoViPak that manufactured her invention. All told, JoViPak developed 126 different garments for U.S. and worldwide distribution.
After 15 successful years in business, JoAnn sold JoViPak to JOBST, one of the largest daytime compression garment companies in the world. JOBST has since sold JoViPak to an even larger distributor in Sweden. DeeDee, JoAnn's daughter, manages the Kent location where custom JoViPaks are still manufactured.
The turn toward nutrition
As the millennium turned, JoAnn continued to be driven to share what she learned from her own life to help others live their best lives. When the cancer returned, she had another epiphany after reading this quote by Eleanor Roosevelt:
"When you cease to make a contribution, you begin to die."
JoAnn's response? "Well, I'm not ready to do either!"
JoAnn again took her health into her own hands. She was sure that her second cancer was due to both stress and a poor diet. Thanks to a close friend who was a naturopath, she supplemented traditional cancer treatments with a focus on better nutrition and optimum sleep to build a strong immune system. Then, they both opened the Lymphedema Nutrition and Wellness Information Center in Des Moines.
Always one to make lemonade from lemons, JoAnn said, "I was blessed to have cancer as I learned the importance of a healthy diet and a strong immune system."
I'm not done yet
From her large apartment at Wesley Des Moines, JoAnn continues to make a contribution. "The reason I moved to Wesley was because I wanted an environment where I can share what I have learned about my experiences with cancer and nutrition," she explained. "I want to help my neighbors live a healthy and pain-free life." To that end, in addition to those Saturday morning music recitals, she opens her apartment up to residents who want to have a discussion about health issues every Thursday afternoon from 2:00 to 4:00.
"I drove my parents nuts," said JoAnn, "But my mother did acknowledge my drive, and she was grateful when I diagnosed her lymphoma."
JoAnn's mother saw that spark in her daughter from a young age.
"My mother told me, 'JoAnn, you have been an organizer since you were a little girl,' and obviously, I'm not done yet."
See JoAnn Rovig speak about her work with lymphedema in 2018.