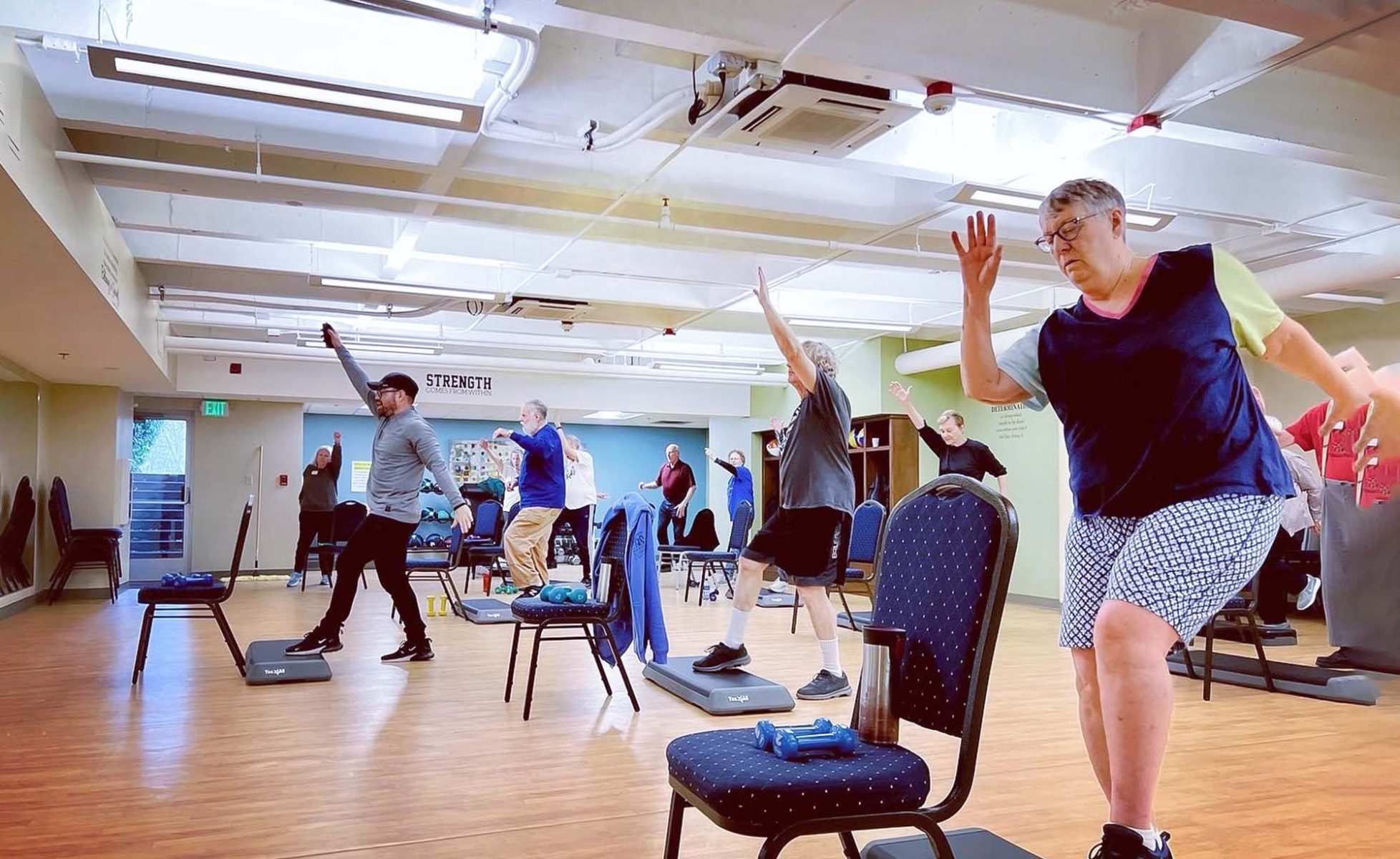 May is National Fitness Month. But at Wesley, every day has opportunities for fitness and overall wellness. Each Wesley community has a well-developed exercise program and dedicated fitness professional to support residents in reaching their fitness goals. From a variety of specialized exercise classes to one-on-one personal training, Wesley instructors help residents live healthier and happier lives.
Wesley Des Moines
The Des Moines community currently offers over 25 classes a week to accommodate residents within a wide range of fitness levels.
"My mission is to move, inspire and, most of all, educate people to live their best life," said Ruben Pereyra, Fitness Coordinator for the Des Moines campus. "I want to build community through fitness." 
The Wesley Mega Circuit is a fun, quick and easy workout that Ruben created for residents. It's an effective workout that moves participants through training stations in the fitness room for a holistic approach to a full body workout.
People who are more physically active enjoy the Every-Body Tabata class, a fun and effective interval training workout that focuses on muscle endurance, strength and balance. Those who prefer a low impact class can try Every-Body Stretch and Movement which is designed to increase muscle elasticity, range of motion, fall prevention and activities of daily living. Functional Movement Patterns is a specialty class that focuses attention on efficient body mechanics to increase balance, stability, strength and flexibility to prevent injury. Those with health limitations such as Parkinson's, arthritis, osteoporosis, or any chronic illness may find this class especially beneficial.
The Phase III fitness center is scheduled to open early next year. In addition to adding a cardio and strength equipment room and exercise classroom, the new center features a state-of-the-art pool pavilion with 25 yard lap lanes, shallows for water classes and a resistance pool for walking.
Wesley Bradley Park
At our Puyallup campus, residents in the Brownstone have their very own fitness room with a treadmill and a rowing machine.
"The rowing machines offer a great full-body workout," said Chelsea Beck, Fitness Coordinator at Bradley Park. "I also like the Functional Trainer in The Lodge gym for strengthening different muscle groups."  
Chelsea offers a specialized class for residents experiencing Parkinson's.
"I'm also really excited about our advanced Strength and Conditioning class," Chelsea said. "With this class, I have the residents doing things they never thought they could do. They love the safe challenges and like to be pushed."
In May, Chelsea is starting a Cardio & Cognitive class.
Like Des Moines, Bradley Park will also be getting a new pool when the new care center is built in Phase II. The building will include a 20 yard lap pool and hot tub, right off the current fitness center.
The exercise program at Bradley Park is centered on social interaction.
"There is definitely a family-like connection between the residents in class," said Chelsea. "We laugh a lot, which is very important both mentally and emotionally."
It's not surprising that the next phase of development includes active amenities like a pickleball court, bocce ball court, more raised garden beds, a sports simulator and a putting green.
Wesley Lea Hill & Wesley at Tehaleh
Angel Rodriguez leads the fitness programs at both Wesley Lea Hill and Wesley at Tehaleh. His experience with dance brings a unique approach to the fitness program.
"I give them a dance sequence to learn every week," Angel explained. "Then we put it all together and have a full routine." Watch this fun segment to the song Fallin' by Connie Francis. 
"We are so fortunate to have Angel," stated Marysusan Iotte, Campus Administrator. "He thinks out of the box to reach folks. What a breath of fresh air!"
Residents appreciate Angel's fresh approach to fitness, the opportunities for outdoor exercise, the fitness room and exercise classroom. Miles of trails surround Wesley at Tehaleh in Bonney Lake inviting walkers, runners and cyclists to get outside for fitness. 
All of our fitness experts agree that exercise provides cardiovascular benefits which boost heart and circulatory system health. Exercise helps with balance and can delay or prevent health problems that seem to come with age. Weight-bearing exercises work directly on the bones in your legs, hips and lower spine to slow mineral loss. In addition to improving strength and joint mobility, weight-bearing exercise can reduce your risk of fractures as well as your risk of conditions such as osteopenia and osteoporosis.
Whether you prefer a programmed routine in a gym, the fluid movement of dance or getting outside for a walk, Wesley offers opportunities for fitness that fit your lifestyle preferences. It's National Fitness Month. Celebrate by focusing on your health and wellness at Wesley.