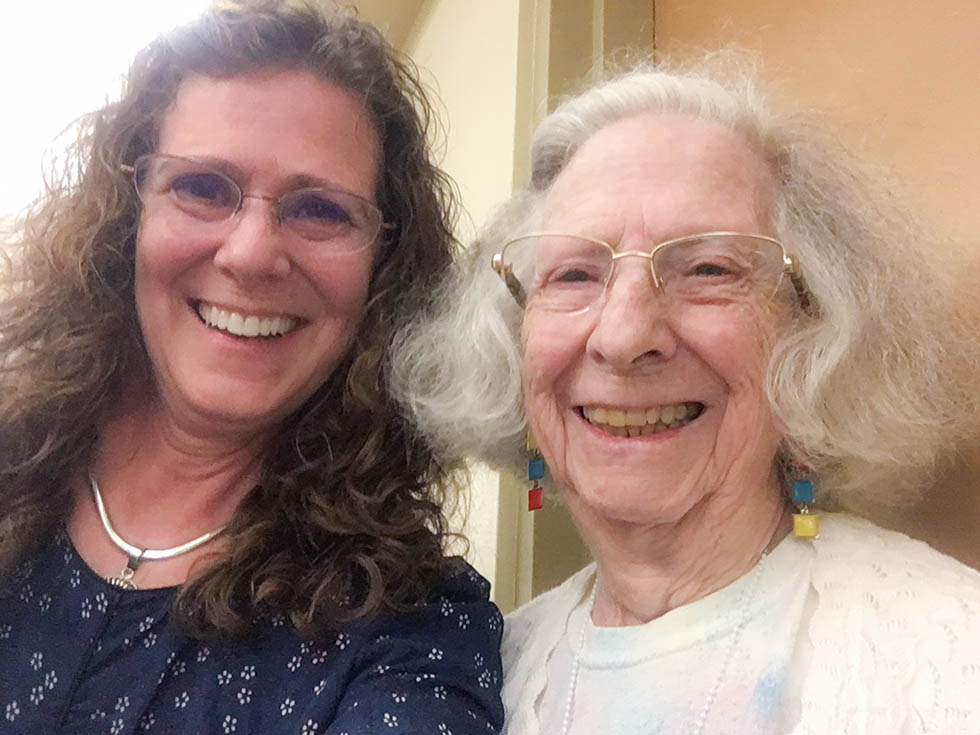 With generations of families not uncommon at Wesley, meet some of our mother-daughter duos!
WesleyDes Moines resident Janet Schempf knew she would eventually live on the campus she grew up visiting when she was a child. Janet is a Wesley legacy, one of the generations of mothers and daughters who've lived on the Des Moines campus. It started with her grandmother's sister moving to Wesley in the 1950s, followed by Janet's grandmother in the 1960s.
"When my parents would visit, it felt like a mini-vacation for them to stay in the guest room alone while my sister and I stayed in my grandmother's alcove. I would spend the day exploring the campus and playing in the gardens and ravine," recalled Janet. 
When her parents decided it was time to allow someone else to take over their home maintenance in the mid-1990s, they knew the Des Moines Cottages were the perfect place for them. "My daughter and I helped my parents move into their new home. I remember pointing toward a set of newly constructed Cottages and telling my mom that's where I wanted to live. And now I do!" said Janet.
"While it's not the best situation for my mom in the Wesley Des Moines Health Center during the pandemic, I am grateful to have more access to her than I would if I were not a resident. I love the Wesley approach to life. It's the camaraderie among the people and the sensibility that we're all in this together. Much like our parent's generations would care for a sick relative, here people support one another and ask how they can help," said Janet. "I'm looking forward to wheeling mom through the gardens and enjoying a meal together."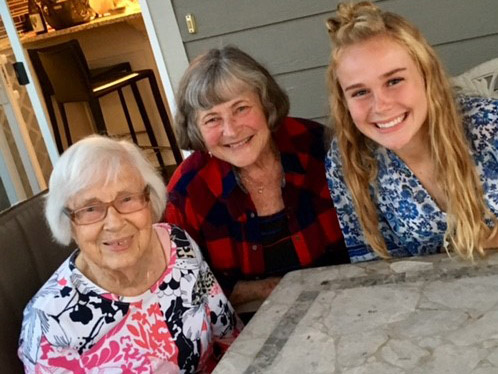 Another mother-daughter duo who enjoy being active on campus together is Carrie Boulet and Harriet Farman at Wesley Bradley Park.
"There is something for everyone here—gardening boxes, a library for people who enjoy reading, walking groups and crafting. Mothers and daughters don't have to do all the same things together all the time. There are so many activities where you can enjoy the companionship of people your age, which is so important," said Carrie.
"As we all age, it's good to be around your parents, spending as much time as possible. I like not having to worry about not getting to Mom quickly and seeing her daily. We didn't plan to live next door, but it feels meant to be. I feel blessed it all worked out." 
During her time as a member of the Wesley Board of Directors, Carrie knew she and her parents would enjoy the active and social lifestyle of living in a community. When her father passed, Carrie's mother left their large three-story home for a quaint Cottage on the Des Moines campus.
"I didn't plan on moving into a retirement community, but I took one look at the Cottage, and it was love at first sight," recalled Harriet. 
Carrie and her husband eventually moved to Wesley Bradley Park in Puyallup, but each Sunday, Carrie would visit and have dinner with her mom in Des Moines. At the start of the pandemic, the three retreated to Carrie's cabin for three months. Having loved the togetherness, when it came time for Harriet to move into her new apartment in the new Gardens building in Des Moines, to Carrie's delight, Harriet decided to move closer.
"I'm not sure why I didn't think about it earlier. It seems silly for Carrie to make plans to visit instead of crossing the hall to see me. As a mother, it's nice to be with your child. It's really wonderful to have my daughter right here," shared Harriet. 
While Carrie and her husband enjoy independent living, Harriet takes advantage of the Catered Living services only a few doors down in The Commons.
"They help her in the morning get dressed, and she enjoys that they walk her to meals, but she is still very independent. She only uses the services when she needs them. We don't need the services right now, but it's comforting to know they're there if we do need them," said Carrie. "With us being in our 80's, we're elderly too. I didn't want mom to be dependent on us. Here we have an independent life close to her and know she is well looked after." 
On behalf of Wesley, Happy Mother's Day!