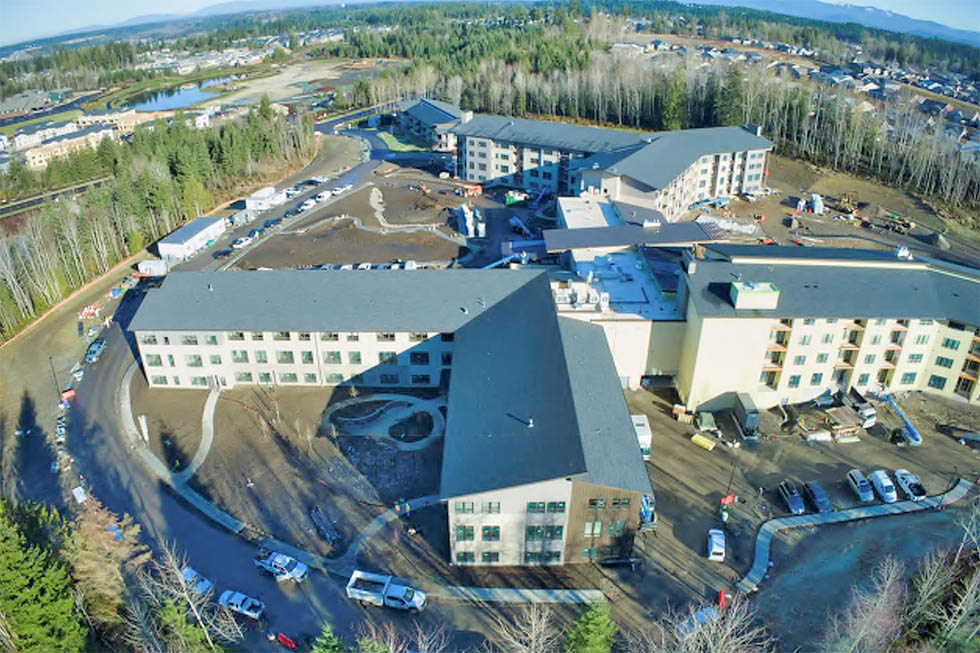 From Kevin Anderson, President & CEO
As we head into 2021, I am excited about all the many positive things that are happening here at Wesley.
Our newest campus, Wesley at Tehaleh, has five Trailblazer families living in the Brownstone. The Lodge is still under construction (pictured above) and scheduled to open in late spring. What a beautiful campus with parks, walking trails and friendly neighbors close by creating a very special community in "the land above". The amenity spaces in the town center and many of the accommodations have spectacular panoramic views. This community has so much to offer, from the indoor gathering spaces to the outdoor pickleball court. It's going to be an amazing place to live when it is completed.
In the coming year, we will start construction on Phase 3 in Des Moines. This phase will include new Cottage homes, independent apartments on the fifth floor, Catered Living and a secure memory care wing. Plus, we are building a brand new care and rehabilitation center with 72 private suites. The addition of a 25-yard swimming pool, resistance pool and Jacuzzi, as well as a new exercise classroom and fitness center, will expand our wellness program and offer all residents on campus more choice in exercise options.  We have also planned for an enclosed elevated walkway across South 216th Street that will provide residents security and safety when moving about campus. Phase 3 is expected to open in 2022. In the meantime, residents in the new Gardens building and throughout the community are thrilled with the impressive views and programs our Des Moines campus offers.  
Wesley Health & Home Care is growing, offering home care, home health, hospice and palliative care. Our Health & Home Care division has been especially important during the COVID-19 pandemic in providing critical care services to people on and off our campuses.  Research shows seniors want more choice in where and how they receive the care they need. These programs offer that! Expanding care and services to other areas of Puget Sound is very important to us in the coming year, and providing in-home care allows us to do that.
The COVID pandemic raised havoc on many aspects of our lives and will most likely change how we do business or go about our daily living for some time. Yet despite all the hardships, the American people have endured and pushed on! Over the centuries, we have suffered many hardships: the pandemic of 1918, two world wars, the stock market crash of 1929, Korea, Vietnam and the pandemic of today. Not only did we endure, but we became stronger and more resilient for the future.  
One of the things I like best about working with older adults is they have lived through many  of these events.  It puts this past year into a different perspective. It was a difficult year, but it was also a year that challenged us to be better: not taking life for granted, watching our staff work together to keep everyone safe, residents helping residents, time getting to know neighbors, spending more time at home, taking trips close to home and enjoying hikes in the mountains. There is a silver lining. Sometimes, it just presents itself differently than what we are used to, or it comes in different forms. For this and so much more, I am most grateful! 
What is Wesley about? Community- Choice-Continuing Care! I'm extremely proud of our staff – those serving our in-home clients and everyone at each of our campuses: Des Moines, Lea Hill, Bradley Park and Tehaleh. Our future is bright, and we want you to be a part of it. So here's to hope and brighter days in 2021!