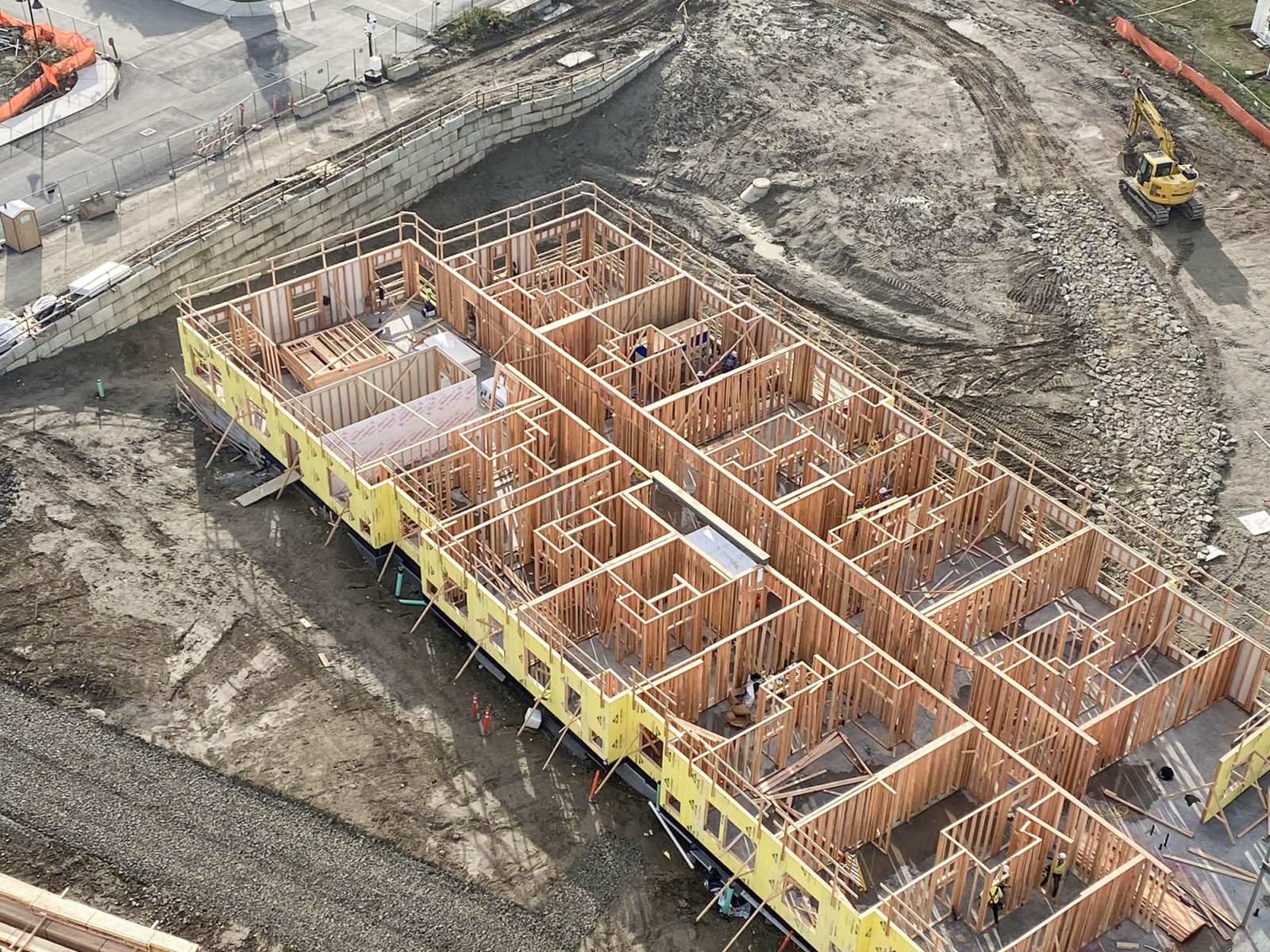 Wesley is gearing up for an active year of construction in 2023! Phase III of the Wesley Des Moines redevelopment is in full swing. Both Wesley Spring Glen and Phase II of Wesley Bradley Park are expected to break ground and begin construction.
At Wesley Des Moines, construction is underway on the south side of the community for 11 new Cottage homes. The expansion of The Gardens apartments includes an additional 5-story wing of apartments, the Albert W. Carr Memory Care Center and a new 2-story rehabilitation and care center. Construction on the Cottages is projected to be completed in early 2023, while the larger building is projected to open in early 2024.
An important piece of this phase of work is the new Skywalk, which will provide safer, easier access between The Terrace and The Gardens buildings. The Skywalk is scheduled to go up in early 2023 and will open when the new wings open.
If you haven't visited the Wesley Des Moines campus in a while, you'll be amazed to see the new Cottages and impressive steel framing of the new care center. Framing of the 5-story building started this month. As with most of our Wesley projects, the framing is expected to go quickly.
Procurement of materials is the greatest challenge to schedule. Our contractors from Walsh Construction and Edge Construction along with InSite Architects and our developers from Senior Housing Partners have expedited the procurement process to manage longer lead times and avoid product delays.
Phase II at Wesley Bradley Park will add the Barndt Family Rehabilitation & Care Center as well as a new Brownstone apartment building. Plans are currently with the City of Puyallup for review and approval. We anticipate receiving the first round of comments in mid-November. Because this phase includes 36 care suites, we are required to submit plans to the Department of Health for a Certificate of Need. This submission was completed earlier this year, and approvals are expected by year-end.
We are also excited to expand our residential offerings with over 40 apartments in the new Brownstone. The sizes range from 1,000 square feet to 1,600 square feet. The new building will have underground parking, community gathering space and outdoor amenities, such as raised gardens and a BBQ area. We expect to have drawings and floor plans for the Brownstone apartments in early 2023 and begin accepting reservations by early summer.
We are currently working with lenders to fund this expansion project at Wesley Bradley Park and expect to have a building permit by mid-2023, starting construction in September.
Designed by Cuningham Group Architecture, Wesley Spring Glen is a partnership with Nativity Lutheran Church. The campus will include a new shared sanctuary/community space as well as offices and meeting areas for church staff. Wesley and Senior Housing Partners are currently working with lenders to fund this new project.*
The King County planning department continues to review Wesley Spring Glen plans and is expected to provide its second round of comments/questions by early November. We hope to have all approvals completed by April and begin construction in June/July 2023 with a projected opening in August 2025. Due to the nature of new construction, these projected timelines are subject to change.
Wesley staff is currently preparing materials to begin taking reservations in early 2023. Use the form below to sign up to receive email updates if you are interested in Wesley Spring Glen.
*Note: Funding for new projects comes from entrance deposits and tax-exempt bonds issued on behalf of the project through the Washington State Housing Finance Commission. Fees and rental income from other Wesley communities are used solely to cover the operating expenses of the community for which they are received and do not pay for the construction of Wesley Spring Glen.
Sign Up to Receive Updates for Spring Glen
"*" indicates required fields