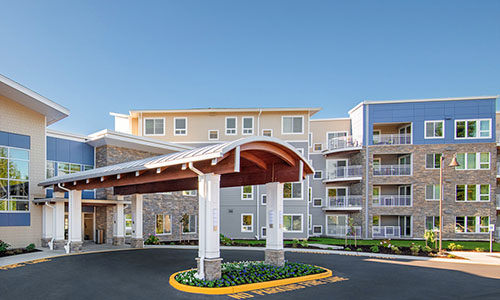 When Sherry Michaelson's husband was diagnosed with Parkinsons, they knew they had to make a change from their two-level home. They were already familiar with Wesley as Sherry's mother and mother-in-law lived on different campuses. When it came time to make a move, they knew Wesley would be the right place for them.
Wesley is All Inclusive
"At Wesley, everything is in one monthly payment. That includes all my utilities, housekeeping, and one meal a day. As you age, keeping track of all the extra payments becomes more difficult. They make it so easy and convenient," explained Sherry.
Maintenance-Free Living
"I wanted to be independent and not have my children worry about me being able to take care of the house. Moving to Wesley just made sense to me," she said.
Wesley is a new choice of maintenance-free living without the burdens of owning a home, including weekly housekeeping services, apartment maintenance, utilities, laundry service, underground parking, and even dog walking assistance.
Companionship
"It's nice to be a part of a community versus a neighborhood. When you walk down the hall, you see a lot of people. I feel like I have family all around. It's important to have companionship. The activities are abounding from exercise programs that meet several times a day, card games, the library, a movie theatre, and knitting classes. Every day is different. Today I have an exercise class in the afternoon and tomorrow I'll jump in my car to do some shopping. Some days you want to shut your door, but if you want companionship, all you have to do is go down the hall, and I can enjoy myself," said Sherry.
Connection is an essential component to living healthy, fulfilled lives, and aging adults are no exception. Wesley features daily organized activities to keep residents active and on the go safely. Neighbors mingle at a safe distance during organized weekly happy hours, group exercise classes held outside, or bicycling in the neighborhoods. There are a variety of programs designed for lifelong learning, including the educational theatre, creativity center, library, and woodshop.
Security
"I choose Wesley because I feel safe. The staff doesn't allow anyone in the building unless they check in. I have a car, and when I come home, I park in my garage and shut it behind me. When I sit on my deck, I see the security car driving by. I like knowing that someone is looking out. It's nice," Sherry said.
Wesley offers personal independence with the freedom from home maintenance in a beautiful setting, with various concierge services and social events. For those needing more care, the signature Catered Living program offers flexible, personalized care coordination with medical providers, medication management, diabetic support, and general personal care. Wesley communities also provide a secure, assisted living memory care program with licensed, 24-hour nursing care.
If you'd like to learn more about Wesley's wellness-inspired living options, pricing or amenities, let us know how we can help using the contact form below.