The daughter of a long-time resident shares her experience with Wesley Hospice.
Marie Meyers is one of five sisters who are all daughters of Wally Meyers, who passed away late last year.
After a lifetime of living independently, Wally expressed to his daughters that he needed more help.
Marie Meyers followed Wally's health closely as his designated power of attorney (POA) and found the added care of assisted living to be very beneficial for Wally. In time, though, Wally's health began to decline and Marie wasn't sure what more could be done.
After meeting with Wesley's assisted living staff, Marie was recommended Wesley Hospice.
"I didn't know much about hospice, and I thought it meant that my father only had a few more weeks to live," said Marie.
She was surprised to learn that choosing hospice care doesn't mean death is imminent; it means that your loved one gets more individualized support.
Wally's daughters met with the Wesley Hospice team to learn more about the program.
As the family learned more about the services Wesley Hospice provides, they began to see their concerns alleviated. The hospice team addressed the stigma surrounding hospice and explained the purpose of hospice.
Marie learned that her dad's physical and emotional wellbeing, as well as his general comfort, were a top priority for Wesley Hospice.
"We were surprised to learn that some residents of hospice can actually graduate off of hospice care because of how much it can improve their quality of life," said Marie.
She was also encouraged that they weren't just there for the patient but for the family, too.
"We met with the hospice team regularly, and we were initially worried that meeting routinely with them would mean prolonging the agony of having to face death," said Marie, "but it quickly became clear how helpful this part of the process was."
Marie said that when they met with the Wesley Hospice team, they would help Marie and her family understand what her dad was going through physically and emotionally.
"I knew little about the process of dying. It was really great to be able to rely on the hospice team for their support and their experience."
Wesley Hospice helped her family understand all the steps in the process of dealing with the passing of a loved one. They helped her family know what they could expect and gave recommendations based on the hospice team's expertise and what the family agreed would be best.
As they went through the program from October to December of 2018, Marie was reassured as she frequently saw someone from the hospice team by her dad's side during her visits. Because of this, she was able to connect with them and be kept well apprised of everything.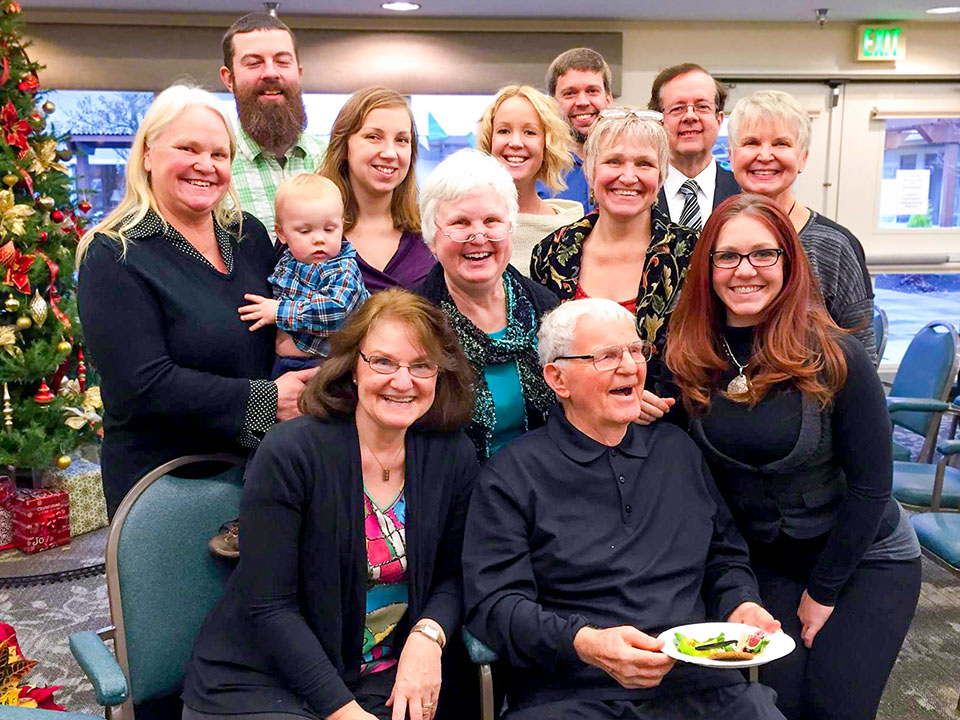 She knew that whether it was the chaplain or a hospice volunteer, they helped her father maintain a human connection with spiritual and emotional support. She said it helped the family deal with the guilt that sometimes comes along with caring for a loved one.
"We tend to take personal ownership for things that we feel bad are happening to our loved ones," said Marie. "Guilt is asking, 'Could I have done more?' or 'Did I do something wrong to exacerbate the situation?'"
Marie explained, "Their spiritual support helped me look at the situation as 'I'm just part of this process, and this process is okay. It's part of God's plan.'"
Marie said that with the peace of mind hospice gave her, she was better prepared for her father's passing.
"It allowed me the clarity to get things in place for his funeral and even helped me think about what I could do to help the rest of my family through the process of grieving."
When asked how it might have been different if they hadn't used Wesley Hospice, Marie didn't hesitate to say that without hospice it would have been very difficult. She sees hospice as a crucial support network to help with the process.
"I wouldn't hesitate to talk with Wesley staff about your family member's health, and if they suggest hospice do it right away," advised Marie. "Otherwise, you will say 'I wish we put him on hospice earlier so he could have gotten more support and care.'"
Marie encourages others to ask questions. "These people have experience in dealing with death. It's their job to work with the processes of grief, and they know some of the best ways to help people work through it and prepare for it."
Lastly, she added that the followup with the chaplain has been great, and Marie still hears from the chaplain occasionally, even months later.
"They've really helped me deal with the fear that goes along with losing a loved one," said Marie. "I can't imagine how it would have been without their security and support, but with hospice, you're not alone."